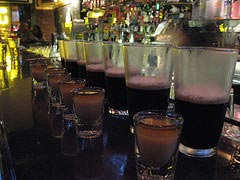 Screwdriver - Dorm room classic.


Rum & Coke - Easy to hide and carry in your bottle.


Long Island Ice Tea - With vodka, tequila, rum, gin, triple sec, sweet and sour mix and Coke, it's a guaranteed hangover the next day.


Midori Sour - A very tart chick drink. Mix melon liquor with sweet and sour and sprite.


Redbull & Vodka - Keeps you going all night till the early morn'.


Redbull & Jager - AKA Jager Bomb or Jagerblaster, this drink gives you a quick boost of testosterone.


Irish Car Bomb - A good chug: Drop a shot glass with half whisky, half Irish Cream into a glass of Guinness and slam it.


Boilermaker - A shot of whisky dropped in beer. Sure to bring out that bitter beer face.


Buttery Nipple - Sure to bring out that censored. In a shot glass mix Butterscotch Schnapps and Irish Cream.


Duck Fart - What else are you going to do with the leftover ingredients from an Irish Car Bomb?
Recommended Products from Amazon: