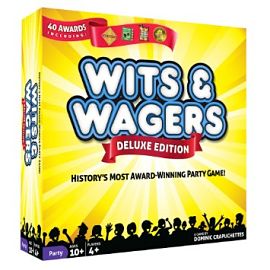 Getting people together is an important aspect of building community. It's how true connections are made and friendships are built. One of the best ways to easily build rapport between individuals and new groups is having a game night. Games ease people out of their comfort zones and get people to open up and come out of their shell in a fun and creative way. Whether you are hosting a party, game night, new group orientation, or just have a group of friends who want to get together, here we offer some to the best games to play for parties, get-togethers, and group meetups. These games will promote community, help people get to know each other better, and provide good laughs and conversation.
Telestrations – Best suited for groups of 6-8 people, Telestrations combines the game of Telephone and Pictionary into a guessing game of what the person sitting next to you draws. This opens up creativity and gets the players using the right side of their brain in a fun and humorous way. Check out the party pack for larger groups.


Superfight – Want to sit around a table and debate? Superfight promotes open-minded discussion and debate making it perfect for a college-educated crowd. The card game pairs character and attribute cards against each other, and an argument ensues over who would win in a fight between the two.


Wits & Wagers – Wits & Wagers combines trivia with a betting aspect. While the trivia questions may be difficult, you don't need to know the exact answer to win; you simply have to bet on what you think the best answer is, giving game players a thorough lesson in educated guessing and decision making.


Quelf – Quelf is the perfect ice-breaker game making it a good choice for orientations or other newly formed groups getting together. It is full of fun and randomness and is a great game for getting people out of their shell. Every player must perform the card they are dealt, enabling them to step out of their comfort zones in a confidence and comfort building activity.


Apples to Apples – Apples to Apples is an amusing party game involving comparison that stirs up humor and competitive debate. It is easy to learn and provides some good laughs making it a go-to game for any last second get-together.


Cards Against Humanity – Cards Against Humanity is the adult version of Apples to Apples with its raunchy answers providing humor for any late-night gathering. This card game is a must-have for any college party host.


The Game of Things – Think you know your friends well? This game will test that. Good for large groups, this guess who said what game brings the comedian out in everyone.


Been There Done That – Playing Been There Done That, you really get to know fellow game players on a personal level. The game provides conversation starters and ice-breaker type questions making it ideal for a large group of new people and perfect for making new friends and acquaintances.


5 Second Rule – Master the art of thinking on your feet in this quick-witted answer game.


Scrabble Scattergories – Combines creativity and working in teams in a fast-paced party game.