College Parties
Parties can be one of the best things about going to college. Many colleges don't like to be labeled a party school, so here's what they don't want you to know.
Rather than making a limited list of top 10 party schools, we have included a roundup of all colleges that are some of the biggest partiers in the nation, and we'll indulge in a little history of party school rankings.
Traditionally speaking, here are the most well-known top party schools in America: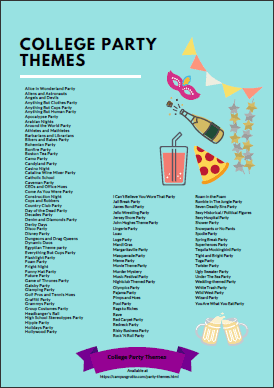 Nothing is more exciting or entertaining than going to a themed party in college.
A themed party brings a certain cool and fun vibe to any college mixer or gathering and enables students to show off their creativity in finding the perfect costume.
With college parties being such a big part of college life, it's important you do it right and create one that everyone will remember, or at least try to the following morning.
Here we look at the best college party themes and ideas for your next college party featuring fun and unique party ideas that make good party themes for college.