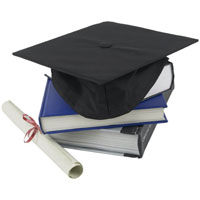 What to do after Graduating from College
Graduating from college is an immensely rewarding and satisfying experience, however when it comes time to decide what you will be doing after college that euphoric feeling can turn to anxiety about the decisions you need to make. The great news is there are quite a few options available after your time at college is over. Below are a few of the most common options to pursue after graduating from college.
Career
Of course, the most obvious option after graduation from college is to put your hard earned degree to work by finding a job in your chosen field. Diving straight into a career after graduation has many benefits, not the least of which is a steady income. Other benefits include vital job experience which can help your career progression and also the immense benefits of establishing industry contacts in your chosen field.
Successfully finding a job straight out of college can be difficult, but do not become discouraged as this process can often take some time. In your job hunting, make sure you make the most of any existing contacts you may have within your desired industry or profession. Be sure to use the resources of the college career center, as well as registering with recruitment agencies and career websites. Learn to become efficient in resume writing and interview skills, as this can often be the difference between getting the job or not.
Internships
It is definitely not too late to take on an internship once you have graduated. Post-graduation internships will often lead to an offer of permanent work. At the very least an internship will provide you with valuable experience and contacts that will aid you in achieving your desired career path. When approaching companies, don't just ask about internships, also ask about any opportunities to volunteer or gain experience within their organization. Many companies may be willing to take you on in a less formal capacity, but you will still gain the valuable experience and a big boost to your resume.
Graduate School
Continuing study at a graduate school is another very common path after college. Attending graduate school to complete a Master's degree, such as an MBA, can significantly enhance your chances of gaining a career within your chosen profession. Studies also show that workers with an advanced degree such as an MBA earn more per year on average than a worker with a bachelor's degree. There is little doubt that an advanced degree provides you with an advantage in the always competitive job market, however factors such as additional cost and time need to be taken into consideration. Many experts are also quick to point out that even when you have an advanced degree such as an MBA, relevant on the job experience is also considered very important by most prospective employers.
These are just three of the most common options graduates can take after the successful completion of their college degree. There are of course many more including volunteering for a non-profit organization, international internships, and traveling. Each option comes with its own set of advantages and disadvantages and it can be extremely helpful to obtain advice from friends, family members or associates who have direct experience in this difficult decision.