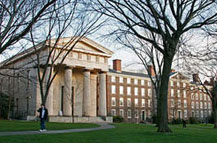 Getting into an Ivy League school is more than just GPA and SAT Scores. In fact, only about 20% of applicants in the top 1 percentile of test scores get into Princeton University.
Other than grades, Ivy League admissions departments look at many other things, such as: essays, teacher and counselor recommendations and activities outside of school. These activities can include sports, music, clubs, jobs, and community service.
Before we get into extracurriculars and other personal achievements, let's take a look at the basics an Ivy League applicant should possess.
Recommended Reading
Overall what you should expect to have is:
At least a 1950 or better SAT. Not necessary, but definitely helps. Remember, you can take the test more than once.


Minimum 3.75 GPA. A 4.0 isn't necessary, but you really do need at least something close to it.


Leadership experience. Whether it's team captain or a club officer, you need something that separates you from the crowd.


A solid well-written essay. The written essay in your application is extremely important. Revise as many times as needed and take your time. The essay is pretty much the only part of the application an admissions officer has to judge your personal character, outside of letters of recommendation for college.
Admissions Essay Writing Tips
Write about something you're really passionate and enthusiastic about. Bonus if you write about something where you learned from the situation, or if it was an event that changed you in some way.
The main thing here is stay 100% positive on an essay. A sob story won't get you in, no matter how bad of a situation it was.
Personal Achievement
Every applicant is reviewed individually and valued for his or her strengths.
Admissions officers look for distinctive achievements, devotion to academic and nonacademic pursuits, and good character with intellectual curiosity and academic excellence being the most important factors. So make sure you really stand out. Have more to show than a high SAT and good grades.
What you want to do is really show an interest in learning.
A university will see this as an individual who wants to continue the learning process. Many college applicant reviewers consider it a promising sign when students challenge themselves with advanced courses. Taking advanced honors classes and a full, rigorous high school program overall will really show your commitment to learning.
Jesse Wolfson, from the admissions department at Yale University, says the most important qualifications Yale looks at is what's on the academic transcript.
Yale looks at how the GPA fits into the transcript and how the transcript reflects the student's taking advantage of the opportunities and resources available to them during high school. The best way to increase your chances of acceptance is to take courses which will add up to a challenging transcript with a record of high academic achievement, while also being involved with activities which you are passionate about and which complement or round out your transcript.
Advice on Applying for admission
Outside of being a sports star, your best advice is to start early.
While applying early won't increase your chance of admission, giving yourself lots of time to perfect your application is a good idea. So start early, take your time, and make it great.
You also might want to consider talking to an alumnus, someone who has gone through the process and attended the School. An alumnus may provide an inside source of information that can be beneficial in the application process and in making final commitment decisions.
Stick to this plan and it will greatly help your chances of getting accepted to the hardest colleges to get into. And if you don't get in, just remember, 90% of CEOs do not come from Ivy League schools.