One of the greatest aspects of the college experience is being a part of a great college tradition. Traditions can provide a great sense of community, school spirit and overall well-being at a college with many students.
Here we present our ranking of the 100 Greatest College Traditions based on the history, amount of student participation, and overall uniqueness of the tradition. Many of these are long-standing college traditions that students and alumni hold dearly. (You won't see any college sports traditions here. We're saving those for an upcoming ranking of the 100 Greatest College Sports Traditions.)
As administrations around the country attempt to clamp down on some of these sacred traditions, it's up to students to keep these traditions alive. These traditions are yours; it's important to keep them going strong so they can be passed down to future generations.
1. Little 500 at Indiana University
The Little 500 is the largest collegiate bike race in the United States. Modeled after the Indianapolis 500, riders compete in four-person teams racing relay-style for 200 laps around a quarter-mile track at Bill Armstrong Stadium. First held in 1951, the event fills the stadium every year, drawing more than 25,000 spectators. Known as "The World's Greatest College Weekend," the town is full of events and non-stop partying the week leading up to the race that one could almost call it the greatest college week in America. The event is highlighted in the movie, Breaking Away.
Traditions are how college memories will be formed. Take them away, student satisfaction goes down and you have thousands of unhappy students paying $50K a year to go to school.
Limiting the amount of fun college students are allowed to have is kind of like prohibition; it doesn't work. To keep their sanity, students need time to blow off steam with something away from the monotony of studying.
Traditions provide a sense of community on a campus with thousands of students. Without this feeling of belongingness, students begin to feel lost in the crowd and can end up transferring or even dropping out. These traditions mean a lot to students and alumni and to ban them outright leaves an empty void in the school spirit of every student.
As a follow-up to our recent ranking of college traditions, we'd like to showcase some of these historic traditions that would have been included in the list, had they not been banned by college administrators. Here are 10 traditions worth reviving.
Phi Psi 500 at Penn State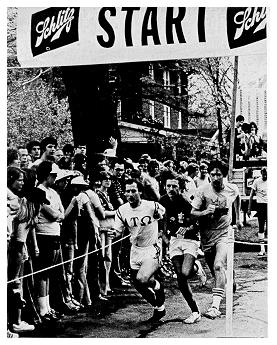 Photo via
Penn State University Libraries
Penn State's Phi Psi 500 began in the late 1960s and was a spring tradition that lasted for 25 years. The 1.1 mile foot race through the streets of downtown State College required 6 pit stops at designated bars along the course where runners had to chug either a beer or soda. It was a heavily anticipated spring event by both students and alumni, drawing about 1500 runners every year.
While the runners who took the race serious ran in the morning, the highlight of the event was the "Anything Goes" division where large groups of students would dress in costume, turning the race into a festive parade. At its peak, sidewalks were four to five people deep as 20,000-30,000 spectators turned out for the charity event.
The university later cracked down on the yearly tradition, removing beer from the festivities. The final Phi Psi 500 was seen in 1992. Here's a video from the 1982 race, where more than 1,400 runners participated.