One of the greatest aspects of the college experience is being a part of a great college tradition. Traditions can provide a great sense of community, school spirit and overall well-being at a college with many students.
Here we present our ranking of the 100 Greatest College Traditions based on the history, amount of student participation, and overall uniqueness of the tradition. Many of these are long-standing college traditions that students and alumni hold dearly. (You won't see any college sports traditions here. We're saving those for an upcoming ranking of the 100 Greatest College Sports Traditions.)
As administrations around the country attempt to clamp down on some of these sacred traditions, it's up to students to keep these traditions alive. These traditions are yours; it's important to keep them going strong so they can be passed down to future generations.
1. Little 500 at Indiana University
The Little 500 is the largest collegiate bike race in the United States. Modeled after the Indianapolis 500, riders compete in four-person teams racing relay-style for 200 laps around a quarter-mile track at Bill Armstrong Stadium. First held in 1951, the event fills the stadium every year, drawing more than 25,000 spectators. Known as "The World's Greatest College Weekend," the town is full of events and non-stop partying the week leading up to the race that one could almost call it the greatest college week in America. The event is highlighted in the movie, Breaking Away.
2. Mifflin Street Block Party - University of Wisconsin
The block party to rule all block parties, the Mifflin Street Block Party has always been known as one of the biggest gatherings in the Midwest. A tradition started in 1969, the annual event takes place on the first Saturday in May. While the crowds were somewhat smaller in 2013 (5,000 in 2013 compared to 25,000 in 2012), the spirit of the festival is far from dead. This tradition can return to greatness with determination from students to keep the tradition going strong and if city officials can learn to let college students be college students.
3. Palmerfest at Ohio U
A legendary party at one of the nation's best party schools. This annual block party on Palmer Street in Athens started in the early 1990s as a response to the university canceling Spring Fest. The event regularly attracts thousands of students from universities around the area. The popularity of Palmerfest has spawned similar annual parties on other streets around the campus, including Oak Street (Oakfest), Mill Street (Millfest), and High Street (Highfest).
4. UCSB Halloween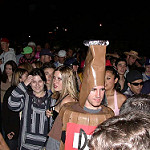 Known as the "Biggest College Party in California," people come from all over to partake in this cherished tradition. It's the event of the year at UCSB, often drawing crowds of 20,000-40,000 to Del Playa Drive. Halloween as a popular tradition at UCSB really took off in the late 1970s. By the early 1980s, word of the party had spread and students from all over California were coming to check out the Halloween celebration. While there has been a slight push to keep it local, UCSB students should embrace the fact they have one of the most coveted college traditions and do nothing but spread the good word to their friends to come see how they do Halloween in Isla Vista.
5. Ohio U Halloween
The annual Halloween block party on Court Street near the Ohio University campus is a tradition that dates back to 1974. The celebration typically attracts 20,000 as the small town of Athens nearly doubles in size. Arrests and citations during the celebration (mostly for alcohol and disorderly conduct) have at times reached as high as 200 in recent years.
6. Chico Float
The Chico Labor Day float is a long-standing college tradition at Chico State. Every Labor Day weekend, thousands of college students get together and float the Sacramento River near Chico, California. In the past, as many as 25,000 floaters have shown up to float the river, which ends up being a huge beach party at the end of the run. This beach, known as Beer Can Beach, is where the party ensues, with lots of drinking, music, and the typical girl going wild. Enjoying a beer and floating down a river with all your college buddies really gives a feeling of freedom and happiness at this feel good event. It is unfortunate the county is starting to limit beer consumption on the river. Really takes away from that "freedom" feeling in this small college town in the middle of nowhere. With the alcohol ban in effect, students now pregame before the float.
7. Dartmouth Winter Carnival
Once referred to as "the Mardi Gras of the North," this famous winter festival that dates back to 1910 is held every February and includes skiing competitions, a polar bear swim, a cappella and jazz concerts, a human dogsled race, a chili cook off, and a drag ball. Students also build large and elaborate carnival-themed snow sculptures in a competition on the college green. Great parties are thrown during this winter event, including the Alpha Chi Alpha Beach Party, a tradition since 1975. Some of the other wild winter events of the past have included the keg jump that was banned in 2000. The Psi Upsilon fraternity was forced by the administration to ban its annual Keg Jump event, marking the end of a 19-year tradition in which students attempted to jump over a line of kegs on ice skates.
8. State Street Halloween Party – University of Wisconsin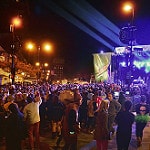 Halloween is one of the most well-known events in Madison, with a history that can be traced back to the 1970s. Even in the early 1980s, this Halloween tradition was attracting crowds of nearly 100,000. After seeing the crowd get out of hand, the city took over the event in 2006 by fencing in the public streets and charging admission. This tradition now sees about 25,000 people annually and features live band performances. For the size of this celebration, the overall festive and spirited mood of the event is impressive, making it one of the most coveted of traditions.
9. St. Patrick's Day at University of Dayton
Named the top St. Patrick's Day college celebration, it is rumored David Letterman ranked Dayton as one of the four best places in the world to celebrate the Irish holiday. In 2013, the St. Patrick's Day celebration got so wild that police in riot gear had to come shut it down. When police are called in to break things up at 5:30am, you know you're at one crazy college party.
10. Green Beer Day at Miami University (Ohio)
Known as Miami University's biggest tradition, Green Beer Day is a day-long party involving lots of green dyed beer. The tradition started in 1952 and is celebrated annually on the Thursday before spring break. Students begin to drink as early as 3 to 5am on Green Beer Day, with bars in Oxford opening at 5am. To celebrate the tradition, students wear green clothing and proceed to drink throughout the day, some even attending class drunk.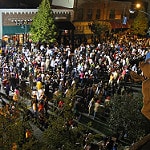 11. Halloween on Franklin Street - UNC
The Halloween celebration at University of North Carolina at Chapel Hill is a tradition that began in the 80s. What makes this tradition special is the creativity of Halloween revelers who strive for the most unique costumes possible. The annual event has seen crowds of 25,000-30,000 over the past few years as they focus on more of a homegrown Halloween after seeing over 80,000 partake in the 2007 celebration.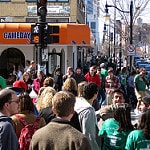 12. Unofficial at University of Illinois
Unofficial is the University of Illinois celebration of St. Patrick's Day before the actual holiday. The tradition was created in 1996 for students who wanted to celebrate St. Patrick's Day with their friends, after realizing the holiday was falling on the week of spring break. Students from all around the Midwest come to Unofficial as the event draws over 10,000 people annually.
13. Green Key Weekend at Dartmouth
For over 80 years Dartmouth has been celebrating Green Key Weekend, one of its most beloved traditions. Green key is a big party weekend in the spring that gives students a chance to enjoy the nicer weather with outdoor concerts, parties and events. The origins of Green Key can be traced back to the class of 1900 who put together House Parties Weekend, a four-day celebration at the end of May that featured sporting events, parties, and a Junior Prom. You'll see epic parties over this weekend, from toga parties and block parties, to the longstanding Alpha Delta Lawn Party. Alpha Delta is famously known as the fraternity the movie "Animal House" was based on.
14. Breakfast Club at Purdue
Breakfast Club is a tradition where students (and alumni) wake up at 5am on Saturday morning and hit the bars dressed in costume. This is a Purdue tradition that is performed on weekends with big events on campus such as Grand Prix and Purdue football games. The roots of this tradition can be traced back to the 80s, when students would wake up so early to go to the bars that they would still be wearing pajamas, bath robes, and other sleepwear.
15. University of Chicago Scavenger Hunt
University of Chicago hosts the largest scavenger hunt in the world with teams competing to complete a list of nearly 300 items. The annual four-day team-based scavenger hunt is held in May and has been a UChicago tradition since 1987. The hunt will typically include at least one item that takes place on the university quad while students are in class, a party on Friday night, a road trip that can often require a travel distance of 1,000 miles or less, and a Scav Olympics competition. The 2011 Scav officially set the Guinness World Record for the world's largest scavenger hunt.
16. Beer Bike at Rice University
Beer Bike is a combination of bicycle race and drinking competition dating back to 1957. Beer Bike began as a competitive event with the opening of the residential colleges. Each college has a team of cyclists and a team of chuggers, with 10 riders and 10 chuggers making up a team. A chugger has to down a drink before a cyclist can do a lap around the track. While most chuggers opt for water, the alumni team and students over 21 have the option of chugging beer in the competition. The race is preceded by a huge water balloon fight between the colleges.
17. Purdue Grand Prix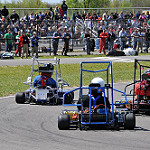 Known as "The Greatest Spectacle in College Racing," Grand Prix is a go-kart race held annually at Purdue University since 1958. The race is open to all students, with residence halls, houses, and Greek organizations teaming up to build and race go-karts. Grand Prix is also a large event for alumni, who often come back to participate in the festivities. Every five years an alumni race is held where former students who have participated in previous Grand Prix races can return to compete. They also hold a Classic race, with karts built prior to 1986 taking part in a 15-lap contest. Though the actual race is held on Saturday, the whole week is full of parties and other events in anticipation of the Purdue tradition.
18. Hash Bash at University of Michigan
Hash Bash is held on the first Saturday of April on the University of Michigan campus. The pro-marijuana celebration began in 1972 in response to the ruling by the Michigan Supreme Court declaring the state's marijuana statutes used to convict cultural activist John Sinclair for possession of two marijuana joints were unconstitutional. The event typically attracts close to 5,000 people.
19. UC Santa Cruz 4/20 Celebration
One of the largest gatherings in the nation for this unofficial holiday, thousands of students gather in the Porter Meadow at UC Santa Cruz to collectively smoke marijuana on 4/20. The campus tradition gained national attention in 2004 when Rolling Stone magazine published an article entitled, "The Most Stoned Students on the Most Stoned Day on the Most Stoned Campus on Earth."
20. St. Patrick's Day at West Virginia University
Take the top party school in the nation and throw in St. Patrick's Day and you have one college party to rule all college parties. St. Patrick's weekend at WVU gets so wild that students from other well-known party schools come to WVU to check out the celebration. Speaking of traditions, one can't go without mentioning West Virginia's knack for setting couches on fire; a frequent occurrence around Morgantown and very prevalent during St. Patrick's Day weekend (36 fires were set during the 2012 celebration).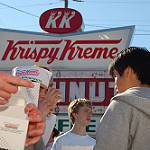 21. Krispy Kreme Challenge at NC State
The Krispy Kreme Challenge is an annual foot race in which participants run a several mile road course to Krispy Kreme Doughnuts, eat one dozen doughnuts, and run back to the finish line in under one hour. The event began in 2004 and has steadily garnered attention with over 8,000 challengers in 2013.
22. Mayfest at Syracuse U
A tradition that originally began as a day off from classes to showcase students' academic work has since turned into a spring festival with free food and beverages and live musical entertainment. The event is free for all SU students, and if you're of age, they provide you with free beer as you enjoy the show. Since 2007, the celebration has also taken on a block party tradition, with students holding parties on the lawns of their off-campus houses and apartment buildings.
23. Veishea at Iowa State
VEISHEA is the largest student-run festival in the nation, bringing in tens of thousands of visitors to the campus each year for an annual week-long celebration. The name of the festival is an acronym for the colleges that existed at the university when the festival was founded in 1922 (Veterinary Medicine, Engineering, Industrial Science, Home Economics, and Agriculture). The celebration features a large parade and open-house demonstrations of university facilities and departments. The student revelry for the tradition is so great, VEISHEA has seen some wild times in the past resulting in riots in 1992, 1994 and 2004.
24. Fallfest at West Virginia University
FallFest welcomes WVU students in the fall with an evening of entertainment and musical performances after the first day of classes. The celebration is highlighted by a series of musical acts on the college green, with 20,000 students enjoying the show. A WVU tradition since 1995, the free event also features a dance party, film festival and comedy show.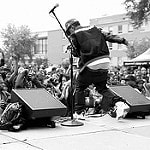 25. Howard Yardfest
Howard hosts a heavily attended outdoor concert known as Yardfest during one of the most epic college homecoming celebrations in the country. Crowds for this annual show have gotten so large that it became a ticketed event in 2013, limiting the crowd size to 14,000.
26. Dillo Day at Northwestern University
Dillo Day is an all-day music festival held at Northwestern near the end of May that brings in some big name musical acts. Dillo Day began in 1972 when a group of Northwestern students from Texas held a celebration in honor of their state's native creature, the Armadillo. Northwestern also holds a battle of the bands contest prior to Dillo Day, with the winning band getting to perform at the Dillo Day festival.
27. Mirror Lake Jump at Ohio State
Since 1990, Ohio State students have been jumping into Mirror Lake to kick off the week of the Ohio State vs. Michigan football game. The amount of school spirit displayed at the event is intense as students jump into the lake at freezing cold temperatures. The jump had been held every year on Thursdays from 1990 to 2009, but when the rivalry with Michigan was moved to the Saturday after Thanksgiving, students were forced to jump on Tuesday before they went home for break. The university tried to control the event in 2013, only to be met with much disagreement and protest from the students, who performed the jump two nights in a row.
28. St. Patrick's Week at Missouri S&T
St. Patrick's Day is a big deal at Missouri S&T, an engineering school located in Rolla. The 2013 celebration marked the 105th year of the tradition that pays homage to Saint Patrick, the Patron Saint of Engineers. While most set aside one day for this Irish tradition, Missouri S&T has a week-long celebration of St. Patrick that has become known as "The Best Ever." A Saturday parade highlights a week full of fun, games and partying.
29. ECU Halloween
ECU has long been known for its Halloween celebration. They close off the main street so thousands of people in costumes can party. Some years have seen over 10,000 come out for the festivities.
30. Marathon Monday
While not an event specific to just college students, there are many colleges that surround the Boston Marathon course. Students, who are given the day off of school, traditionally partake in heavy drinking while cheering on the marathon runners. The Marathon Monday tradition at Wellesley College is the Scream Tunnel where thousands of women line about a quarter mile of the course and proceed to scream and offer kisses to runners. The Scream Tunnel is so loud it can be heard from a mile away. At Boston College, it is tradition for students to gather at Mile 21 of the course (near campus) and drink to the accomplishments of the runners while cheering.
31. Penn Spring Fling
Spring Fling is an annual festival at Penn held at the end of spring semester that gives students a chance to blow off some steam. A tradition started in 1973, it is known as "the biggest (and best) college festival on the East Coast." Nearly 10,000 students partake in the event, which consists of a carnival with games and entertainment and a concert featuring high-profile bands.
32. Cornell Slope Day
Slope Day is the annual end-of-classes celebration held on the Libe Slope at Cornell, a tradition that started in 1901 as Spring Day. The day includes musical performances and a carnival with food and games.
33. Great Midwest Trivia Contest at Lawrence University
Lawrence University hosts the nation's longest-running trivia contest, with 50 straight hours of trivia questions from Friday until Sunday. The trivia contest is broadcast live over the Internet so teams both on and off campus can participate. A tradition since 1966, the contest is held on the last weekend in January and begins at 10pm on Friday. Many students will attempt to stay awake for the full duration of the 50-hour trivia marathon. At midnight on Sunday, the teams with the highest scores in the on-campus and off-campus categories are declared the winners, receiving off-the-wall prizes like pink plastic flamingos and stainless-steel bedpans. Williams College also holds a notable trivia contest. The Williams Trivia Contest is a semi-annual event that began in 1966.
34. Michigan Technological University's Winter Carnival
First held in 1922, Winter Carnival is an annual celebration at MTU celebrating the large amount of snowfall received in the area. Some of the festivities include a tug-of-war competition on ice, snow volleyball, a beard competition, broomball, a human dogsled race, ice bowling, ice fishing, skit competitions, and the annual Sno Ball and pageant show for the Winter Carnival Queen.
The big attraction of Winter Carnival is the monumental snow statues that are built for a snow sculpting contest. There are two main contest categories: the one-nighter and the month-long competition, with the month-long competition snow sculptures being much more elaborate and detailed. Prior to the one-nighter, a set of speakers are put into a stereo made of snow and music is played for all of campus to enjoy throughout the night.
35. Deltopia at UC Santa Barbara
Students at UCSB used to hold an epic tradition known as Floatopia where thousands of students would take to the beaches and waters of the Pacific Ocean with floatation devices and plenty of alcohol. County officials banned the event by closing off the beach, citing environmental concerns. Deltopia is the outgrowth of Floatopia when the event was banned in 2009. Now it's a block party on Del Playa Drive, overlooking the Pacific Ocean. In 2013, a record crowd of 15,000-18,000 attended the Deltopia event, nearly doubling in size from the year before.
36. ASU Undie Run
Every year to celebrate the end of classes, over 15,000 Arizona State students gather for their infamous undie run tradition. One of the nation's hottest student bodies remove their clothes for charity and proceed to run around the Tempe campus half-naked. Undie runs are popular at other schools as well, notably UCLA, but Arizona State takes this college tradition by far.
37. Penn Relays
Established in 1895, the Penn Relays are America's largest amateur track meet. It is an event that can bring in over 100,000 spectators each year, with fans getting an opportunity to see future Olympic stars. The Penn Relays are the world's oldest and largest relay meet and a tradition that can be credited with popularizing the relay race.
38. Renn Fayre at Reed College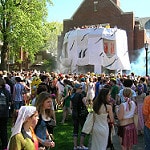 Renn Fayre is a campus-wide weekend celebration that marks the end of the academic year at Reed College. The tradition begins on Friday with the Thesis Parade: all graduating seniors burn their thesis notes in a huge bonfire and then parade around campus. The festival includes fireworks, music, food and drink, arts and crafts, and nude students covered in blue paint.
Reed also holds a Seventh Annual Nitrogen Day. This special Reed holiday traditionally falls on the Thursday before Renn Fayre and is another popular tradition at Reed. Nitrogen Day is a celebration of one of the world's most important, yet under-appreciated elements.
39. Middlebury Winter Carnival
In 2013, Middlebury hosted its 90th annual winter carnival, making it one of the oldest student-run winter carnivals in the country. The carnival features Nordic races and alpine events on Middlebury's own ski area. The weekend festivities also include a bonfire, fireworks, snow sculptures, ice show, comedy show, and a carnival ball.
40. Hampshire Halloween
Also known as Trip or Treat, this party has gotten so wild it was once profiled in Rolling Stone magazine. They close off the campus at 5pm for this Halloween tradition and only allow students and their guests in. You'll see fireworks and a music show at this annual celebration, ending with a midnight breakfast.
41. Sun God Festival at UC San Diego
Sungod is a music festival at the University of California - San Diego held every year since 1983. It has grown to become a day-long festival comprised of three stages, a street fair, and an inflatable area. The event draws approximately 20,000 people and continues to grow every year. In addition, the Junkyard Derby is held on the day of Sun God where students race downhill racers made from old junkyard parts.
42. DePauw Little 500
DePauw's Little 500 tradition began in 1956, five years after a similar event was created at Indiana University. Both are bicycle races inspired by the Indianapolis 500. Held in late April every year, cyclists compete in a week-long series of events, including Time Trials, Street Sprints, and the Little 5 Bicycle race. Combined scores for each individual rider and their respective teams determine individual and team champions. A Mini 500 tricycle race is also a DePauw tradition.
43. Colgate Spring Party Weekend
Rumor has it, Walter Cronkite once said that there are two places in the world he would never want his daughter to be: the DMZ in Vietnam and Colgate on Spring Party Weekend. The biggest party weekend of the year is held at the end of spring semester and features pig roasts, band performances and many Greek-sponsored parties. Dancefest is another celebrated spring event at Colgate, featuring a series of performances by talented dance groups and individuals on campus.
44. Carnegie Mellon Sweepstakes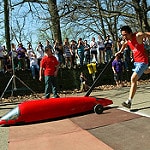 The CMU Buggy Race, also known as Sweepstakes, is a race around Schenley Park, a city park bordering the Carnegie Mellon campus. Buggies (small, aerodynamic torpedo-shaped vehicles) are pushed in a relay-style race, with five runners taking turns pushing the buggy up slight hills and releasing to allow the vehicle, being steered by an individual inside, to navigate through downhill turns at speeds of up to 40mph. The event has been part of Carnegie Mellon's annual Spring Festival since 1920. Have a look at the race in 2013.
45. THON at Penn State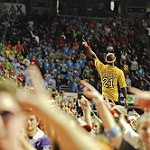 THON is a two-day dance marathon that takes place every February at Penn State with the purpose of raising money to fight pediatric cancer. Started in 1973, nearly 15,000 students participate in the 46-hour no-sitting, no-sleeping dance marathon known as THON Weekend. They raised $12 Million during the 2013 THON. Other schools with notable dance marathons include Indiana and Northwestern.
46. Princeton Lawn Parties
Parties that feature live bands that are held simultaneously by all of the eating clubs at the start of classes and at the conclusion of the academic year.
47. The Naked Bike Ride at University of Vermont
A college tradition started in 1996, hundreds of students celebrate the end of classes by participating in a clothing-optional bike ride or run through campus.
48. Drake Relays
First held in 1910, the annual Drake Relays are regarded as one of the top track and field events in the United States. It is an event that attracts more than 40,000 spectators, 200+ college and university teams, and world-class athletes. Drake Relays transforms the campus into a huge celebration. The biggest student tradition for the event is Street Painting, an activity that usually ends with a large paint fight. Every student organization paints a square of concrete in accordance to a yearly theme along a street that runs through campus.
49. UC Davis Picnic Day
Picnic Day is the university's annual open house for current and prospective students, families, alumni, staff, faculty, and the Davis community where most departments put on exhibitions, competitions, and presentations. It is an event that has seen over 100,000 visitors a year and is UC Davis' most celebrated day of the year with over 200 events ranging from the Doxie Derby (dachshund races, a 30+ year tradition), fashion show, Battle of the Bands competition, and a parade. The Battle of the Bands at UC Davis began on a Picnic Day in the early 1970's. School's marching bands battle it out in front of thousands of spectators. The 100th Picnic Day will be held in 2014.
50. Number Fest at Ohio U
Number Fest is a huge music festival at Ohio University established in 2004. Billed as "The Premier College Music Festival Experience," over 15,000 turn out for the BYOB event.
51. Quadfest at Radford University
Quadfest is Radford's annual off-campus block party, a four-day celebration at the end of the semester. Quadfest was previously a school sponsored event up until 2006: the school had live bands and activities that took place on campus. Upon cancellation of the event, students organized their own Quadfest into the houses and streets off campus. The event has seen a large police presence, especially during the 2009 Quadfest, when officers wrote 600 citations and made 80 arrests.
52. Georgia Tech Races
In the 1960s, freshmen were often forced to ride tricycles around campus as a form of hazing. Georgia Tech's Mini 500, an annual tricycle race, was derived from this practice when it was established in 1969 over homecoming week. During homecoming, Georgia Tech also holds a Freshman Cake Race, a 100+ year old tradition. The race, which was once mandatory, is free of charge with the winners receiving cakes baked by faculty, alumni, and students. Georgia Tech also hosts the Pi Mile Road Race, a 5k run that has been held annually since its creation in 1973.
53. UT Roundup
University of Texas' biggest party weekend of the year, Round-Up began in 1930 when the school decided to "round up" alumni and entertain them with barbecues and music. Today, Round-Up is a big Greek event. Fraternities host parties all weekend, while sororities open up their houses for picnics and BBQs.
54. Fake Patty's Day at Kansas State
Fake Patty's Day was a tradition started by Kansas State students who wanted to celebrate the holiday before spring break. It's known as Fake Patty's Day because the event takes place a week or so before the real St. Patrick's Day.
55. Alpha Psi Rodeo at Auburn University
The Alpha Psi Round-Up was established by the men of Alpha Psi at Auburn's College of Veterinary Medicine in 1965. The event draws about 15,000 people and is Auburn's largest student fundraising event. The rodeo is followed by an evening concert.
56. Sycamore Tricycle Derby at Indiana State
What started in 1963 as a 10-lap race around the sidewalks of the Quad on children's tricycles has turned into an event that features men's and women's teams racing on specially built tricycles. The race is held annually the Friday before homecoming. The school also holds a tandem bicycle race as a part of Spring Week.
57. SIU Polar Bear
Polar Bear is a tradition that draws thousands to Carbondale for an all-day drinking event that turns into a winter homecoming of sorts. Students pack the bars at 10am on a Saturday in January and partake in crazy drink specials while enjoying the outdoor beer gardens on a cold winter day. The event started in 2001 as an attempt to set the record for most Coronas consumed in one day.
58. State Patty's Day at Penn State
State Patty's Day is a student created celebration started in 2007 due to the fact that Saint Patrick's Day fell during spring break, which would have left students unable to celebrate the holiday with their college friends. In an effort to tame the rowdiness of the event, every one of downtown State College's 34 bars were paid $5000 to close or not sell booze during the 2013 celebration.
59. Elon Festivus
Started in 2005, Elon students play and party in a huge mud pit while enjoying kegs of beer and a massive pig roast.
60. Crawfest at Tulane
Crawfest is an annual music, food and arts festival located on Tulane University's uptown campus. Started in 2007, each year 10,000-12,000 students and others in the community enjoy 12 bands and 19,000+ pounds of crawfish.
61. Stanford Full Moon on the Quad
Full Moon on the Quad is a kissing tradition that dates back over 100 years at Stanford in which senior men exchange roses and kisses with freshmen women. Nowadays, the Quad is barricaded off and campus police check student IDs for those entering to ensure it stays a Stanford-only event. Tables providing mouthwash, mints, refreshments, condoms, and roses are also set up.
62. 40s on 40 at Columbia University
Regarded as a rite of passage for Columbia students, seniors drink a 40oz of malt liquor on the steps of the Low Library with forty days remaining until graduation. Hundreds of seniors toast bottles covered in brown paper bags to celebrate their looming graduation. They drink, sing the Alma Mater, and cheerfully mingle with fellow classmates. Another Columbia tradition held on the steps of the library is Bacchanal - an annual concert held during their spring festival.
63. Bates Winter Carnival
The Bates Winter Carnival features athletic competitions that include Nordic races, an ice skating party, concerts, a bonfire, a snow sculpture competition, cafeteria tray races, a late night breakfast, and the infamous Bates Puddle Jump where a hole is cut into the frozen campus lake so students can jump into the water. Each year a new theme is selected for the four-day festivities, which is kicked off with an Olympic-style torch relay. Bates will celebrate the 95th year of the carnival in 2014, the 2nd oldest collegiate winter carnival in the nation.
64. LDOC at Duke
LDOC is a celebration of the Last Day of Classes at Duke in which students party while listening to big-name music acts on campus. It's not too often you can bring in your own beer and drink in the quad, so Duke students take full advantage of this opportunity.
65. Pomona Ski-Beach
One day a year students at Pomona take full advantage of living in Southern California by heading to the mountains in the morning for some skiing and then finish the day relaxing on the beach. Not too many places have the luxury of doing both in one day, so students really look forward to a tradition where they can enjoy the best of both worlds.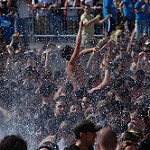 66. Spirit Splash at UCF
Named one of the best homecoming traditions in the nation, students jump into the Reflection Pond on campus the Friday before the Homecoming football game. The tradition began in 1995 when the Student Body President was pushed into the pond and fellow students decided to followed suit. The marching band, cheerleaders, student athletes, and dancers all participate in the event, which is usually followed by a concert.
67. Bowdoin College Ivies
Ivies is a longstanding tradition at Bowdoin that typically turns into a spring break type weekend full of music and parties. The tradition of Ivy Day at Bowdoin began in 1865 when the junior class, following in the footsteps of a Yale ritual, planted ivy near the Chapel. There is a concert that takes place, but the highlight of the tradition is the different parties that take place over the weekend.
68. Oberlin Drag Ball
An event that first appeared in the late 1980s, Drag Ball transforms the Student Union into a nightclub complete with three dance floors playing different styles of music along with a main stage featuring a runway competition. Over 1,000 people attend the Oberlin Drag Ball, a tradition that Rolling Stone once called "the Mardi Gras of the Midwest."
69. Liquid Latex at Brandeis
Organized in 2001, Liquid Latex is a tradition unique to Brandeis involving latex, nudity and art. The show features dance and art performance groups and a runway to showcase amazing latex paint designs. The event alone was enough to receive honorable mention in Playboy magazine's ranking of party schools in 2010 for "Best College-Supported Art Project".
70. UCSB Extravaganza
At the end of spring quarter the school brings in some big name music acts for a huge music festival that attracts over 5,000 students. Started in 1979, the popularity of the festival has grown so large that in 2011 it became a UCSB student-only event.
71. Ace Miller Memorial Boxing Tournament at Tennessee
A big boxing weekend at University of Tennessee, the event is a fraternity boxing tournament where about 50 fraternity brothers compete in 11 different weight classes. Formerly known as the SAE Boxing Tournament, the 3-day bracketed tournament is attended by thousands of students and alumni in the spring. Sports Illustrated listed the tournament in their collection of "102 Things You Gotta Do Before You Graduate." They held 33rd annual bouts in 2013.
72. Dayton to Daytona
University of Dayton – Dayton to Daytona is an annual Dayton tradition for all sophomores, juniors and seniors to travel down to Daytona Beach and party spring break style all week with their fellow classmates. First started in 1978, the event draws over 2,500 students from Dayton.
73. Spring Weekend at Brown University
In a tradition that spans over 50 years, Brown's Spring Weekend is highlighted with a large concert on the main green that attracts nearly 4,500 students. On the Thursday before Spring Weekend, a carnival is organized featuring free food, bouncy castles, mechanical bulls, and other carnival entertainment.
74. Streaking the Lawn at University of Virginia
Streaking the Lawn is one of the most celebrated traditions at UVA. It is said that before one takes a degree from the university, he or she must run naked from the steps of the Rotunda down the 740-foot Lawn, kiss the statue of Homer, and streak back up the Lawn. Although the tradition dates back to the 1930s, the sport of running the Lawn naked didn't gain popularity until the 1970s. The streaking practice is witnessed by many, known as lawnies, who typically prank the streakers by shining a spotlight on them while they run in the nude.
75. First Rain at UC Santa Cruz
A tradition started in the fall of 1989, First Rain is a naked run around campus during the first rainfall of the fall season. Students begin the run at Porter College and proceed to run through campus picking up other students along the way at the school's other residential colleges, and ending again at Porter with a drum circle in the Porter Meadow.
76. Blarney Blowout at UMass Amherst
The Blarney Blowout is the annual St. Patrick's Day celebration at UMASS. There's a reason they call it ZooMass: In 2013, riot police had to show up to break up a party of over 2,000 students.
77. Orgo Night at Columbia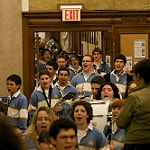 The day before the Organic Chemistry exam at Columbia University, the Columbia University Marching Band takes over the reading room at Butler Library to play and distract students from studying for finals. The tradition provides a short break from studying with an hour-long scripted series of jokes. Many other colleges hold traditions leading up to finals that help relieve stress and give students a chance to blow off some steam.
78. Extravaganja at UMass Amherst
Extravaganja is a 4/20 festival complete with bands, speakers, food, and thousands of people with the purpose of promoting the legalization of marijuana. The 22nd edition of Extravaganja was held in 2013.
79. University of Vermont 4/20
It is an annual tradition for many UVM students to gather on the campus green and celebrate the marijuana holiday with their peers. The day also typically falls close to Vermont's annual Spring Fest, a day full of great live bands.
80. Dolphy Day at Le Moyne College
Dolphy Day is a tradition that dates back to 1971 that gives students a surprise day off of classes. The actual date of the event is kept secret until the last possible moment when the event begins at about 2am, usually involving fireworks. Festivities of the day continue throughout the evening and include live music, a barbecue, dancing and partying.
81. Brown SexPowerGod
SexPowerGod is a party thrown by the Brown Queer Alliance that provides an environment for people to dance, have fun, and explore their sexuality in what typically becomes a semi-nude lingerie costume party. The event is held in a small exclusive venue, making the quest for tickets almost as notorious as the party: hundreds of people camp out in order to secure their name on the party guest list.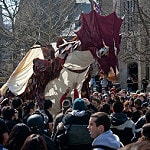 82. Cornell Dragon Day
Every spring, students from the College of Architecture dress in crazy costumes and parade around a giant homemade dragon on campus with many spectators following. The Dragon Day tradition dates back more than 100 years and typically has ended with some sort of bonfire.
83. Rice University Baker 13
First done in 1975, Baker 13 is a streaking tradition in which students run around campus wearing nothing but shoes and shaving cream. The tradition is performed at 10pm on the 13th and 31st of every month, with the biggest runs being on Halloween and the first and last run of the school year.
84. Michigan Mud Bowl
Every fall, for 80 years, the brothers of Sigma Alpha Epsilon at the University of Michigan have turned their lawn into a mud-filled football field to host a Greek system football tournament. The matchups get rather intense in this heavily attended Greek event that has received coverage in Sports Illustrated and ESPN. In addition, two sororities play each other during halftime.
85. USC Fountain Run
On the last Thursday of classes at USC it is tradition for seniors to celebrate by getting drunk and running through the 30 or so fountains on campus, with many sporting costumes and floatation devices.
86. Founder's Day at Vassar
Founder's Day is a Vassar tradition honoring the birthday of founder Matthew Vassar, a brewer. First observed in 1866 during the college's first year, the day is celebrated on the Saturday closest to Vassar's birthday (April 29). The event kicks off with a toast in the brewer's name and students enjoy the day with carnival rides, music, free food and beer (They bring in a truck full of beer that is free for students to enjoy) and a firework show to end the festivities.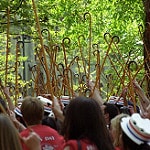 87. Penn Hey Day
Hey Day marks the moving up of juniors to the senior class at Penn, a tradition that stretches back to 1916. Juniors sport red shirts and strut along Locust Walk with canes and bite into Styrofoam hats as they proceed to College Hall to greet the President of the University. The outgoing and incoming senior class presidents give speeches and the juniors are officially declared seniors.
88. Tinker Day at Hollins University
One day in October Hollins students are treated to a surprise day off. Classes are canceled and students and faculty climb nearby Tinker Mountain dressed in crazy costumes. After a lunch of fried chicken and Tinker Cake, students perform skits and sing songs before returning to campus. Observed since the 1880s, Tinker Day is the school's best known and loved tradition.
89. Knox College Flunk Day
A campus-wide surprise party, Flunk Day is a tradition that students eagerly anticipate, often guessing or making predictions of when it will be. The date of Flunk Day changes every year and is held a secret until the student body is woken up at 5am the day of and classes are canceled. Students spend the day enjoying music, a mud pit, a foam party, inflatable games, a student vs. faculty softball game, a comedy show, and a picnic lunch. The first Flunk Day of record was May 11, 1922.
90. Dooley's Week at Emory
Dooley's Week is the annual week-long celebration of Dooley, Emory's unofficial mascot, featuring music, comedy, trivia, a Taste of Emory, and Dooley's Ball. Dooley makes an appearance on campus and excuses students from class with an entourage following him around (students dressed like Secret Service agents) for protection. Dooley's Week culminates with Dooley's Ball, a grand celebration in the center of campus on McDonough Field, where students dance and party in costumes.
91. Cadet versus Civilian Snowball Fight at Virginia Tech
The Cadet vs. Civilian Snowball Fight is one of the oldest and most cherished traditions at Virginia Tech. On the first big snow of the year over 1,500 students make way to the drill field to engage in an epic snow battle.
92. Hope College Pull
A 100+ year old tradition dating back to 1898, the Pull is an annual tug-of-war contest held across the Black River (150 feet wide) near Hope College. Named the "mother of all tugs-of-war" by Sports Illustrated, it is a competition between freshmen and sophomore classes. Each team has 18 students on the rope as "pullers" and another 18 act as guides and morale boosters, known as "moralers". The longest pull was in 1977, lasting 3 hours and 51 minutes, ending in a draw. The shortest pull lasted two minutes and 40 seconds in 1956. Now, The Pull has a 3-hour time limit. The winning team gets bragging rights and jumps into the river afterwards to celebrate.
93. CalTech Ditch Day
Ditch Day is a tradition that goes back almost 100 years when seniors would take the day off and leave campus. Over the years seniors would return to find themselves victims of pranks when their rooms were filled with sand, a working car, a cement mixer and had furniture glued to the ceiling. In response, seniors began placing concrete blocks in front of their doors on the skip day. Concrete blocks gave way to elaborate puzzles to keep the underclassmen occupied. Now during the Ditch Day tradition, underclassmen are given the day off of classes to solve these puzzles and overcome other obstacles that seniors spend weeks creating. Given the smarts of students at CalTech, you can imagine how complex some of these puzzles can be.
94. Carleton College Rotblatt
Carleton College has an annual marathon softball game that is played the same number of innings that the college has been in existence. The game lasts for hours as students play nearly 150 innings of softball, making it the world's longest intramural sport. The one rule for this tradition is that players must have a beer in their hands at all times.
95. Oozefest at University at Buffalo SUNY
More than 1,500 University at Buffalo students and alumni participate in Oozefest, the nation's largest collegiate mud volleyball tournament started in 1984. Every April, teams of six compete in a double elimination volleyball tournament of 128 teams on 16 courts at The Mud Pit. A costume contest is also conducted between participating teams.
96. Hudson Relays at Case Western Reserve
The Hudson Relays is an annual tradition at Case Western that was created in 1910 to commemorate the campus move from Hudson to Cleveland, Ohio. It is a 25 mile relay race between teams drawn from each class year. University tradition says that if a class wins the relay for each of its four years, the team will be rewarded with a champagne and steak dinner with the president of the university.
97. Primal Scream at Harvard
At midnight on the night before final exams begin, it is tradition for Harvard students to run around the Yard completely naked. The original Primal Scream began in the 1960s, when students would gather in the Yard or open their windows and yell for 10 minutes as a way to relieve stress. By the 1990s, the streaking aspect of the tradition had caught on. Typically, 100+ students bare it all for a lap around the Yard while hundreds of others watch and the Harvard Band plays. Participating in Primal Scream, along with having sex in the stacks and peeing on the John Harvard statue, are known as the three things every Harvard student must do before graduating.
98. UChicago Polar Bear Run
To celebrate Kuvia, the annual winter festival at UChicago since 1983, hundreds of nude or semi-nude Chicago students will run together across the Quad while onlookers cheer them on. Considering most college streaking traditions occur at night, we commend UChicago Polar Bear runners for their bravery of doing it in daylight. Other events during the week-long festival include ice sculpting, ice skating, hot chocolate get-togethers, musical performances, faculty fireside chats, early morning calisthenics led by University deans and a dance marathon.
99. Hampshire Keg Hunt
Every Easter morning, students at Hampshire College grab a mug and head out into the woods surrounding the college for an Easter Keg Hunt to search for kegs that have been hidden the day before.
100. Ski-down Procession at Middlebury
At the end of Middlebury's winter term, students celebrate the end of their undergraduate careers with a ski-down procession at the Middlebury College Snow Bowl. About 100 students, who earn their degrees mid-year, ski down the mountain in cap and gown.
Honorable Mention
Chilifest – While not technically a college event, Chilifest is attended by thousands of students from Texas A&M and other colleges in the area. Held in Snook, Texas, it is a big weekend event with plenty of chili, live country music, and beer. Started in 1991, the event brings in close to 50,000 people, mostly college students, for a two-day music festival on 15 acres of pastureland.
Foxfield Races – Another non-university event, Foxfield Races is a big attraction for students and alumni at University of Virginia. It is a horse racing event students like to attend by getting all dressed up and turning it into a big tailgating event.
Notre Dame Bookstore Basketball Tournament – Bookstore Basketball is a huge 5-on-5 outdoor basketball tournament started in 1972 that is open to students and faculty of Notre Dame, Saint Mary's, and Holy Cross. In 1983, Bookstore Basketball set the Guinness Book of World Records for the largest five-on-five outdoor basketball tournament in the world with 512 teams.
Southern Illinois University Regatta – The Cardboard Boat Regatta is an annual event held every spring at Campus Lake. While many cardboard boat races are held across the country, the idea first originated at SIU in 1974 when design students were required to build human-sized functional boats using only cardboard, glue, caulk, and a handful of other materials.
Big Sub at Barnard College – Big Sub is an annual event at Barnard where a large 700+ foot long sub sandwich is prepared for students to enjoy. The length of the sub grows by one foot every year.
Tour de Strand at UCLA – Every year dozens of students and alumni from the Anderson School of Management at UCLA do a pub crawl on bikes from Santa Monica to Redondo Beach along The Strand, a 22-mile paved bicycle path that runs along the Pacific Ocean.
A well-known party school, Binghampton University has a notable Spring Fling and St. Patrick's Day celebration. The Binghampton Parade Day is a city-wide celebration of St. Patrick's Day that attracts more than 50,000 students and locals.
Homecoming and Bonfires – While considered more of a sports tradition because the events are essentially pep rallies for football games, Texas A&M, Baylor, and Dartmouth all hold notable bonfire celebrations with a long history. We'll cover these in our upcoming ranking of college sports traditions. Sign up to receive our latest articles by email to be notified when this ranking becomes available.
Also see: Banned College Traditions worth Reviving