Quick Tip: Get Instant Access to eTextbooks at VitalSource.com.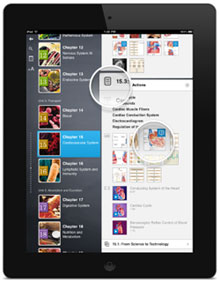 An eTextbook isn't just an eBook version of a textbook; it's an interactive educational tool. That's what Apple is trying to achieve in their push for iPad textbooks, something they hope will disrupt the $8 billion textbook market.
Built-in video, interactive 3D objects, and the ability to highlight content (that can be automatically turned into flash cards when preparing for exams) are just a few of the features of textbooks on the iPad.
Using iPads in the classroom has brought new excitement to course material. An instructor from Notre Dame, who had his business class take part in a pilot program, noted how the ability to easily share and collaborate with the device made the class "more interesting and dynamic".
IPads have become so useful in certain academic settings that some colleges are making them a required item. This is the case at Brown University's medical school, where incoming students were required to purchase iPads last fall.
Students as part of a eTextbook pilot program at Cal State enjoyed the cost savings, the ability to search by keyword, and the lightweight option that digital textbooks provided, however, eTextbooks did not provide the greatest user experience for many of the students. Their biggest complaint: they felt as if they were reading a textbook on the Internet.
It is apparent iPad textbooks aren't for everyone. Three out of 4 students still prefer a print textbook over the digital version, according to a survey of 655 college students. Current sales of eTextbooks only account for a small percentage of the $8 billion textbook industry.
Recommended Resources:
Is it worth buying an iPad just for textbooks?
Based on current "savings" eTextbooks give over print textbooks, it would take about two semesters worth of textbooks to break even, after spending $500 for the iPad. Of course, buying the eTextbook version means the book can't be resold and certain publishers even limit the time you have access to the book.
With Apple's announcement of iPad textbooks available in the latest update of the iBooks app, they are taking steps toward building a catalog of textbooks available for purchase within the app. The current selection of textbooks is limited, with most of the titles being high school textbooks.
Where to get iPad Textbooks
The nice thing about textbooks on the iPad is they can be accessed immediately after purchase (no standing in lines at the bookstore or waiting for your books to ship). Here's where you can get college textbooks for your iPad.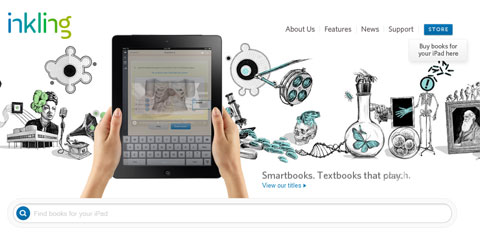 Inkling was started in 2009 when Matt MacInnis, a former Apple employee (who worked in Apple's education division for eight years), noticed that technology and textbooks weren't reaching their full potential.
Their goal is to make learning interactive and engaging by taking advantage of new media devices, like the iPad. They want to reinvent the textbook by looking at a digital textbook not as a book, but as software. This new technology enables learning assessment tools to be built into the textbook, like having interactive quizzes at the end of every chapter. Inkling also brings a social aspect to learning by enabling students to follow each other's note streams, all within the application.
Inkling textbooks are generally 30%-40% cheaper than the list price of print books. Students also have the option of purchasing individual chapters for a few dollars each (which comes in handy for those classes that only cover a few chapters of the book). Their catalog has over 100 fully-enhanced, interactive titles available, including some of the most popular titles for undergrad, MBA and medical students. They have a limited number of books available because they customize every textbook specifically for the iPad to make it interactive and engaging.
About eTextbooks from Inkling
Available on: iPad only
Purchase options: Buy the full textbook or by the chapter.
Length of Access: Lifetime use.
Printing limitations: No printing allowed.
Available offline: Yes, although some multimedia content (streaming video and music) in the textbook does require an Internet connection.
Deals: Free chapter by downloading their iPad app.
VitalSource is currently the largest seller of eTextbooks. They claim to save students 60% when purchasing over printed textbooks. The textbooks at VitalSource are sold as digital rentals that give users digital access rights to the textbook for 360 days. CourseSmart textbooks can be used on the iPad by downloading their free app.
About eTextbooks at VitalSource
Available on: Most digital devices: iPad, iPhone, Kindle, Laptop computers and Android devices both online and off.
Purchase options: Free trial before buying. After purchase, access to the eTextbook is given for the "digital rental" period, which is 360 days.
Length of access: 360 days
Printing limitations: Up to 10 pages at a time. Total limit is 1.5 times the number of pages in the book.
Available offline: Yes, but content must be checked out via their online app.
Deals: Free eTextbook Trial (for 14 days or 50 page views, whichever comes first).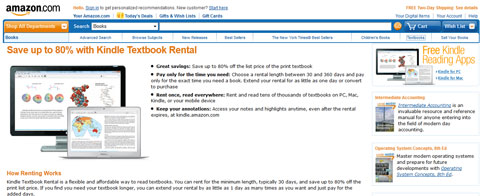 For eTextbooks at Amazon, students can either buy the digital textbook outright (lifetime access) or rent it (cheaper option), better known as Kindle Textbook Rentals. Renters can choose their rental period (any length between 30 and 360 days), so you only need to pay for the time you actually need access to the book. After the rental period ends, students still get access to all of their notes and highlighted content in the Amazon Cloud.
Even though Amazon has eTextbooks labeled as Kindle edition books, they can still be used on the iPad. To access Kindle Textbook Rentals on your iPad you will need to download the Kindle app from the App Store (therefore, no Kindle device is required). Additionally, you always have the option of accessing the textbook from other devices (PC, Mac, Android, Blackberry, and iPhone) at any time with Amazon's Whispersync technology.
About eTextbooks at Amazon
Available on: Even though Kindle textbooks were designed with the Kindle in mind, they are accessible on iPad, PC, Mac, Android, Blackberry, and iPhone.
Purchase options: At Amazon you can buy or rent in both print and digital form. As far as eTextbook rentals: choose any rental length between 30 and 360 days. You can extend the rental period for as little as one day or convert the order to a full purchase and keep the book permanently.
Length of access: Depends on the purchase. The textbook can be rented from 30 to 360 days.
Textbook renter Chegg.com just recently started offering eTextbooks that are available on the iPad. The eTextbook is web-based, therefore viewable on any device connected to the Internet. Not having the textbook available offline is a downfall, but being online lets you connect to Chegg's 24/7 Homework Q&A service through the eReader. Ordering a print textbook from Chegg? Customers can get a 7-day access pass to the eTextbook version while they wait for their physical textbook to ship.
About eTextbooks at Chegg
Available on: Any device with an Internet connection.
Purchase options: At Chegg you can rent textbooks, buy new and used, or get eTextbooks.
Length of access: The eTextbooks have a digital rental period of 180 days.
Printing limitations: According to Chegg, copy and print limits will vary per eTextbook. Clicking on the 'View Details' next to the eTextbook will show the limitations of the book you are ordering. Most of the eTextbooks seem to allow up to 50% of the book to be printed. Printing over 10% of the book will void any returns of the book for a full refund.
Available offline: No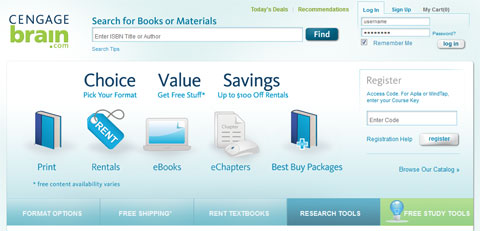 Cengage offers textbooks in multiple formats: print, rentals, eTextbooks, and by the chapter (eChapters). The eTextbooks and eChapters are available on the iPad for both online and offline use. Being able to buy textbooks down to the individual chapter and getting free access to the eTextbook version while your print textbook ships are two big advantages of getting textbooks at CengageBrain.
About eTextbooks from CengageBrain
Available on: You can view eTextbooks and eChapters on a desktop, laptop, iPad, iPhone or Android device.
Purchase options: Buy eTextbooks by the book or by the chapter (eChapters). Also offer print textbooks for sale or rent.
Length of access: Standard length of access to digital content is one semester. Some titles that are published for courses that last multiple semesters have a longer access period. Individual chapters are only available for an access period of 6 months.
Printing limitations: Up to 10 pages at a time. Total limit is 1.5 times the number of pages in the book.
Available offline: Available both online and offline with the free eReader app for your iPad. Currently, offline access is only supported when using a desktop, laptop or iPad.
Deals: See Cengage Coupon Codes
Open Textbooks
There are many freely available open textbooks that can be used on the iPad. While you likely won't find the textbook your professor assigns here, convince your instructors to start using open textbooks and the $8 billion textbook market can really be disrupted.
About the Author: