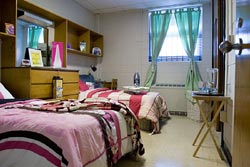 Gone are the days when a dorm room had basic furniture with little to no decorations. Dorm room decor has come a long way in recent years. You can walk in some dorm rooms and not even realize you are in one.
So what can you do to spruce up your dorm and make it more appealing?
There are a few things you can do to make your dorm room more stylish and attractive and more enjoyable to live in for the school year.
Coordinate with your Roommate
Check with your roommate first to see if they have a color preference. Check to see what color their bedding is and what kind of posters or pictures they will be bringing to the dorm. This will help you decide what kind of bedding and decorations you should buy. After all, the last thing you want is one side of a dorm to be hot pink while the other side is forest green. Maybe you and your roommate(s) can come to an agreement of a neutral color, design or pattern for bedding and drapes so your room is easy on the eyes.
Organization Helps
Dorm rooms are small. They are even smaller when you are sharing the room with other students. Therefore, it helps to try to organize your belongings to save space. Invest in products such as closet kits and stackable crates. You can purchase really long containers that fit neatly under your bed. You can store anything in here from non-perishable food items to clothes. Purchase a small storage ottoman to double as a coffee table. Purchase smaller containers to store silverware and other kitchen type items. Being organized will help keep your belongings under control so your dorm room does not turn into a chaotic mess.
Decorate on a Budget
Everyone knows that college students are on a budget. Don't spend too much money on decor as you may need that money for other items like textbooks. Check out stores like Walmart or Target for bedding, pillows and lamps at low prices. They also carry all types of containers and crates that would be perfect for organizing. You can also hit your local dollar store for cheap art prints that would look good on your walls or collapsible hampers that would be perfect for storing laundry.
Throw Rugs
Who wants the basic gray carpet that is in most dorm rooms nowadays? Check out consignment shops or thrift stores and pick up a colorful and inexpensive throw rug for your dorm. This will bring some added color and style to the room without much effort.
Check with your School
Before you purchase small appliances or hang items from walls, check with your college to see what types of items are allowed and what types are prohibited. Also, check to see if you are allowed additional furniture or large items before purchasing them. It may be against fire code to have too much furniture in your dorm room. Have fun, be creative, and enjoy your new dorm room!
Money Saving Tip:
Save time and money by purchasing your dorm room bedding all together. These Dorm-in-a-Box Kits include all the bedding you will need for your Twin XL mattress. Sets typically include a matching comforter, flat sheet, fitted sheet, pillowcase, bath towel, hand towel, wash cloth, mattress pad, laundry sac, and reversible pillow sham.