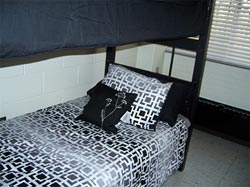 You may not realize it, but the bedding in your college dorm can make or break the style of your room. The bed is the largest and most noticeable item in your dorm room, therefore it stands out right away. It is best to have bedding that is stylish to help make your room appealing to not only you, but your guests as well.
Comforters
You should choose a comforter that reflects your style. There are a wide variety of comforters to choose from, such as bold patterns and stripes to pastels and florals. Try to find a reversible comforter so that you can change your bed around without actually changing the comforter.
Twin XL Sheets
Almost all dorms utilize extra long twin beds, therefore you will need to purchase extra long twin sheets and comforters. These are usually sold in stores such as Walmart, Target, Bed Bath and Beyond as well as online specialty websites. Purchase at least 2-3 sets of sheets so you always have a fresh set on hand in case you don't get to your laundry right away.
Throw Pillows
Throw pillows are the new trend in decorating. Any design expert will tell you that they add style and color to the room. They dress up your bed so it doesn't look so plain. It's amazing the difference a handful of throw pillows can make in a room. You should also consider purchasing a body pillow as they are not only comfortable, but helpful if you lay in bed with a laptop and need the extra comfort around you.
Coordinate
Check with your roommate(s) to see what color or pattern of bedding they will be using. Maybe you can purchase something similar or at least the same color so the room will match in color and/or style.
Duvet Covers
Since most dorm rooms also double as a hangout for your friends, consider purchasing a duvet cover. You can throw this over your bed so that when your bed doubles as a sofa for your friends, they all can sit on it, instead of your comforter. Duvet covers come in all colors and styles and some even come to match the comforters and sheets you have.
Make Your Bed
What good is having all of this nice, stylish bedding if your bed is a mess? Make the best of your new bedding by making your bed daily. Even if you just pull the comforter over the bed, make it look presentable. Your resident assistant will be impressed when they perform dorm inspections.
Affordable Dorm Room Bedding
Bedding can get expensive, especially when you add throw pillows and other matching items around the room. Before you purchase new, be sure to check out consignment shops and yard sales. Check out websites such as Overstock and Amazon. You can snag some really stylish bedding for your dorm and save a ton of money as well.
Students and parents looking to save on dorm room bedding should opt for Dorm-in-a-Box kits that include all the bedding you will need for your Twin XL mattress. These sets usually include a matching comforter, flat sheet, fitted sheet, pillowcase, bath towel, hand towel, wash cloth, mattress pad, laundry sac, and reversible pillow sham.