For the 2014-2015 school year, the average cost of room and board is priced at $9,804 for public colleges and $11,188 for private colleges. To no surprise, colleges in California, New York, and the Boston area charge a bit more and top the list of most expensive dorms.
The highest-priced dorms can be found in New York, where students get to enjoy the conveniences of living in Manhattan and fabulous skyline views from high-rise dorms.
Going to school in New York can be quite an experience for a first-year college student, but one that comes with a hefty price tag. Looking at tuition and fees alone, NYU ranks 57th in highest cost. However, when room and board is factored into college cost rankings, NYU becomes the 3rd most expensive college in the nation with an estimated room and board expense of $16,782.
If you're going to rack up college debt, it may as well come with a million-dollar view. Here's a look from a dorm room in Founders Hall, a traditional first-year residence hall at NYU.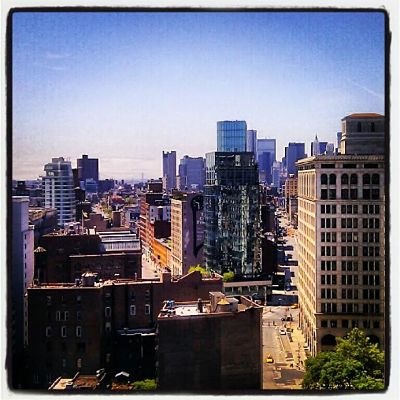 The 25 Most Expensive College Dorms for 2014-2015
1. Eugene Lang College (The New School) - $19,390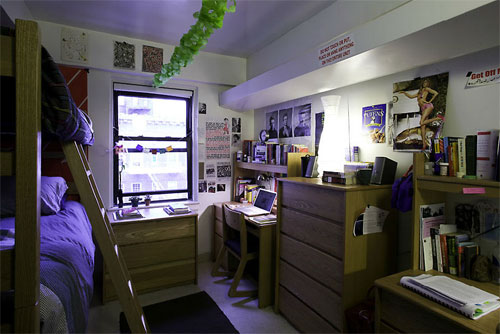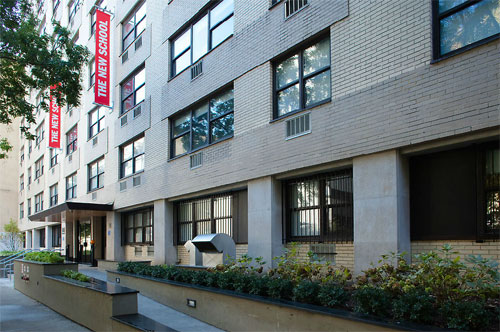 2. New York University - $16,782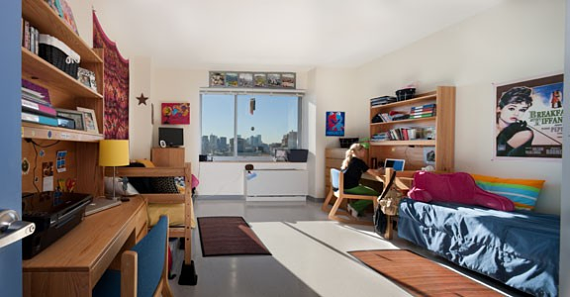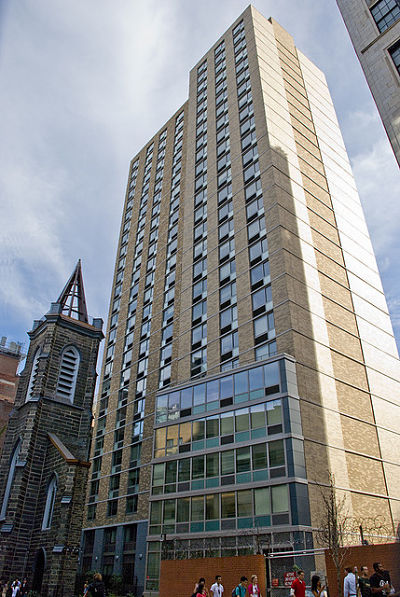 3. Fordham University - Lincoln Center - $16,685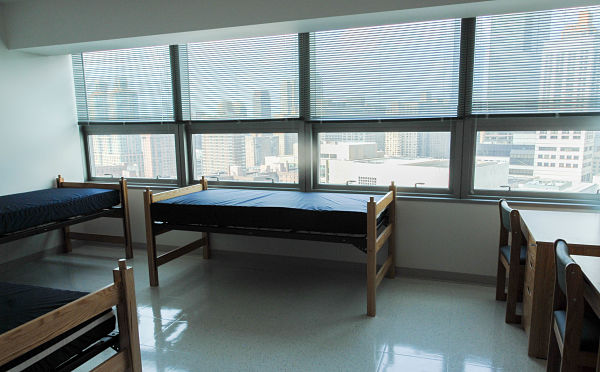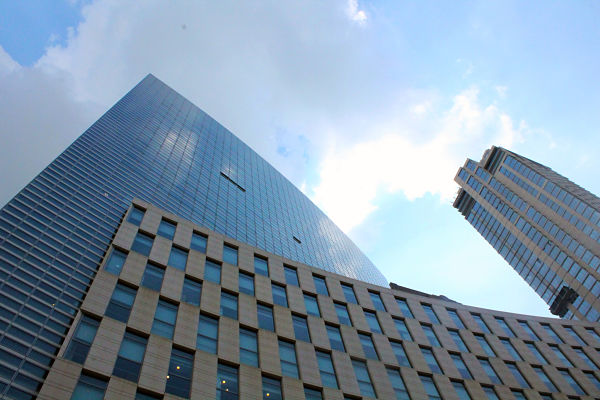 4. Pace University - $16,600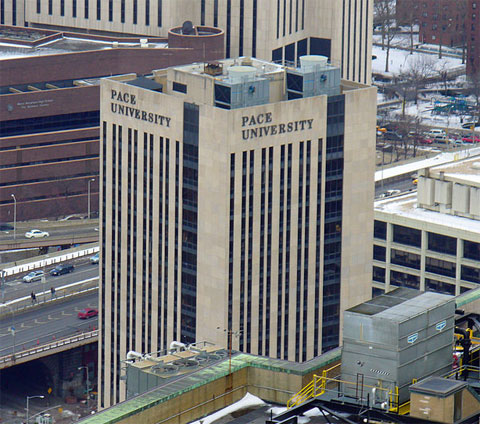 5. St John's University (Queens) - $16,390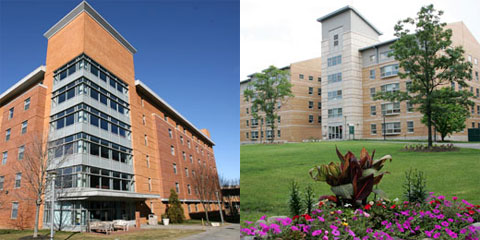 6. Hellenic College - $16,192
7. Fordham University - Rose Hill $15,965
8. Harvey Mudd College - $15,833
9. San Francisco Art Institute - $15,666
10. Cooper Union - $15,220
11. Olin College - $15,200
12. SUNY College of Environmental Science and Forestry - $15,120
13. Emerson College - $15,096
14. University of California - Merced - $15,035
15. University of California - Riverside - $15,000
15. Marymount Manhattan College - $15,000
17. Smith College - $14,950
18. Roger Williams University - $14,864
19. Claremont McKenna College - $14,820
20. Dean College - $14,760
21. San Diego State University - $14,745
22. Pitzer College - $14,730
22. University of California - Santa Cruz - $14,730
24. Fisher College - $14,714
25. Pomona College - $14,700
25. Sarah Lawrence College - $14,700
Previous Expensive Dorm Rankings
Most Expensive College Dorms for 2011-2012

Most Expensive College Dorms for 2011-2012

While rising tuition numbers get all the rage, room and board costs at some colleges are so high they surpass the tuition prices of many public universities. Students at the popular UCLA campus pay about $13K in resident tuition. Meanwhile, students at private universities in New York are paying thousands more just for their college housing. With prices this high, it's clear room and board is a big (and often underlooked) cost of going to college.

Is the cost worth it?

While students living in high-rise dorms in New York may enjoy the views, city life, and amenities they have access to now, most will spend years paying off the loans needed to pay for the luxury and will never again have the privilege to live with such a view.

The most expensive college housing is found at The New School in New York where freshmen who live in the 13th Street Residence, a traditional corridor-style dorm, pay $18,080 with mandatory meal plan. When you consider dorm residents move out in the middle of May, and aren't allowed to stay over winter break, the cost per day for cramped rooms comes out to be a pretty penny.

This double room can be yours for about $75 per day. (Photo: 13th Street Residence at The New School)

The priciest dorms are found in (not surprisingly) the urban areas of New York, Boston, and the California coast. With the exception of the UC schools, all of the colleges on this list are private, with eight of the top 10 being located in the New York area. Only four of the top 20 are located outside the states of California and New York: two in the Boston area (Suffolk University and Olin College), one in Washington D.C. (American University), and one (unexpectedly) in Nashville, Tennessee (Vanderbilt University).

For the first time, the average room and board at private colleges has eclipsed the $10K mark. For the 2011-2012 school year, room and board prices increased 4.0% at public and 3.9% at private colleges with average costs of $8,887 and $10,089, respectively.

Most Expensive College Dorms for 2011-2012

These are prices a typical freshman will pay for room and board for the 2011-2012 school year. Prices are based on a double room with meal plan.

1. The New School - New York, NY

At the 13th Street Residence, a traditional freshman dorm, a double room and required meal plan will run you $18,080. Want to live in a single? Be prepared to pay $21,220.




2. New York University - New York, NY

Home to one of the largest university housing systems in the US, 21 buildings comprise NYU's undergraduate housing system, with many residence halls being converted apartment complexes or old hotels. Third Avenue North is the largest all-freshman residence hall at NYU, housing over 950 students.




3. Fordham University - Lincoln Center - New York, NY

Resident students live in McMahon Hall, a 20-story residence building that houses over 740 Undergraduate and 140 Law students. The residence hall adjoins the world-renowned Lincoln Center for the Performing Arts and is just minutes from Central Park. The building is equipped with multiple study lounges, a social lounge, tennis and basketball courts and a fitness center. A controversial expansion project is in the works that will bring more dorm units to the college.

Photo credit: Craig Califate - One time use only, only authorized for this story.

4. Fordham University - Rose Hill - New York, NY

Situated on 85 acres in North Bronx, the Rose Hill campus is among the largest privately owned green spaces in New York City. The Collegiate Gothic architecture, expansive lawns, ivy-covered buildings, and cobblestone streets make it one of the most beautiful campus settings in the nation. There are 10 residence halls on campus, including four residential colleges and six Integrated Learning Communities for such disciplines as science, business, and leadership.




5. St John's University (Queens) - New York, NY

St John's has some of the newest and most modern student residence halls on the East Coast. Each Hall Council receives funds to provide students with free or discounted tickets to major NYC events, such as Yankee games, museums and Broadway shows.




6. Suffolk University - Boston, MA

The majority of incoming students get assigned to the Suffolk University Residence Hall at 150 Tremont Street. Students residing in the newer Miller Hall, another popular dorm for freshmen, enjoy magnificent views of Boston.




The Common Room at Miller Residence Hall with sweeping views of Boston

7. Manhattanville College - Purchase, NY

Generally occupied by first-year students, Spellman is the largest of Manhattanville's four residence halls with 211 rooms and 434 students. The building is co-ed by room, meaning that female students might live next door to male students.




8. Pace University - New York, NY

The majority of incoming students in a standard double are placed in Maria's Tower at One Pace Plaza. Located in the same building where Pace students take most of their classes, dorm rooms are on floors 5-17, making it just a short elevator ride away from classes, the library, and the cafeteria. Theme floor options include film, wellness, green, honors, and world cultures. A typical student here can expect to pay $14,230 for room and board.

Freshmen who live in a double at the John Street Residence, where rooms come equipped with a flatscreen TV and private bath, pay $16,700 with the bronze meal plan (the minimum required meal plan for freshmen). Pair a double room at the John Street Residence with a platinum meal plan and you'll be looking at room and board costs of $17,790.




Dorms are floors 5-17 in Maria's Tower at One Pace Plaza

9. University of California - Berkeley - Berkeley, CA

At Cal there are many housing environments to choose from: traditional high-rise residence halls, suites, and theme programs with each having its own unique style and amenities. Students living in the residence halls have access to academic services centers, live-in health workers, computing centers, security monitoring programs, tutoring, and advising. Out of all the living options at Cal, the Unit 1 and Unit 2 complex hold the most freshmen (over 1400+ each).

The Unit 1 complex at Cal consists of six halls with approximately 230 students in each hall.

10. Marymount Manhattan College - New York, NY

Marymount Manhattan College's 55th Street Residence Hall is one of the tallest college dorms in America. Student rooms are in the first 32 stories of a 46-story skyscraper in Midtown Manhattan, offering great views of NYC. The dorm has seven themed floors: Academic Achievement, Early Risers, Green, Leadership, Creative and Performing Arts, Vegetarian, and Substance Free.

55th Street Residence: Dorms are floors 1-32.
The top stories are private luxury apartments.

The Top 20

| | |
| --- | --- |
| College | Room/Board |
| 1. The New School | $18,080 |
| 2. New York University | $15,181 |
| 3. Fordham University - Lincoln Center | $15,000 |
| 4. Fordham University - Rose Hill | $14,925 |
| 5. St. John's University (Queens) | $14,700 |
| 6. Suffolk University | $14,624 |
| 7. Manhattanville College | $14,520 |
| 8. Pace University | $14,230 |
| 9. University of California - Berkeley | $14,046 |
| 10. Marymount Manhattan College | $14,030 |
| 11. Franklin W. Olin College of Engineering | $14,000 |
| 12. Sarah Lawrence College | $13,958 |
| 13. Dominican University of California | $13,900 |
| 14. University of California - Santa Cruz | $13,869 |
| 15. Harvey Mudd College | $13,858 |
| 16. Cooper Union for Advancement of Science | $13,700 |
| 17. University of California - Santa Barbara | $13,694 |
| 18. American University | $13,684 |
| 19. Claremont McKenna College | $13,625 |
| 20. Vanderbilt University | $13,560 |
Most Expensive College Dorms for 2010-2011

Most Expensive College Dorms for 2010-2011

Room and board prices increased 4.6% at public and 3.9% at private colleges in 2010-2011. With average costs of $8,535 and $9,700 (respectively) it's clear that room and board is a big part of college costs.

This is a cost that is often overlooked, with tuition prices getting much of the attention. The example we like to use is with New York University, who has the 42nd highest tuition, but when factoring in room and board they become the 2nd most expensive college.

Most of the dorms on this list are found in the urban areas of New York, Boston, and along the California coast. Only 4 of the top 20 are located outside the states of California and New York.

Top 20 on the Map:





Most Expensive College Dorms for 2010-2011

These are prices a typical freshman will pay for room and board for the 2010-2011 school year. Prices are for a standard double room.

1. Eugene Lang College (The New School) - New York, NY

The Lang campus, located near Union Square and Washington Square Park, is contained in many buildings that are considered historical landmarks because of their innovative architecture. Most freshmen are placed in the Stuyvesant Park Dorm or the 13th Street Residence where the room alone runs $13,590 (double). Stuyvesant Park, the newest and largest residence, is equipped with an abundance of large rooms and common spaces, including a main lounge, study room, gym, art room, and music practice space.




2. University of California - Berkeley - Berkeley, CA

The Unit 1 complex (pictured below) consists of six halls built around a large courtyard and a central building that contains the unit office, mail services, and rooms for meetings, events, and parties, and the Academic Services Center. Located 1 block from campus, the complex houses the most students at the college (1426 students).




3. Suffolk University - Boston, MA

Dorms at Suffolk University have the convenience of being just blocks from main academic buildings, and include sweeping views of Boston. Each dorm houses a dining hall, computer lab, and recreation room, and each room is wired for satellite television, telephone, and Internet.




4. Fordham University - Lincoln Center - New York, NY

Located in the heart of Manhattan's culturally rich Upper West Side neighborhood, McMahon Hall is home to over 740 Undergraduate and 140 Law students. The residence hall adjoins the world-renowned Lincoln Center for the Performing Arts and is just minutes from Central Park.




5. Fordham University - Rose Hill - New York, NY

Rose Hill, the main Fordham campus, adjacent to Little Italy, the Bronx Zoo, and the New York Botanical Garden, is situated on 85 acres in the north Bronx. A total of 6,678 undergraduates and graduates attend, with 3,143 living in University housing.




6. University of California - Santa Cruz - Santa Cruz, CA

At Santa Cruz there are a variety of housing themes and options for those who are interested. You can be placed into a residence of your choosing and paired with others with similar interests based on academic pursuits, hobbies, individual backgrounds, and lifestyle preferences. Some of these housing themes include Outdoor Recreation, Spirituality & Faith, Sustainable Living, Gaming, Night Owl, and a Coed Writers Hall. If you think the dorms are too expensive you could always live in the school's RV Park.




7. St. John's University - New York, NY

According to the website, "At St. John's University's Queens campus, you can enjoy living in some of the newest and most modern student residence halls on the East Coast." Each residence hall provides free or discounted tickets to major NYC events, such as Yankee games, museums and Broadway shows. The university does not allow first and second year residential students to bring cars on campus.




8. Manhattanville College - Purchase, NY

Spellman Hall (pictured below) is the freshman residence hall on Manhattanville's campus. The building is co-ed by room, meaning that female students might live next door to male students, and there are separate shower and bathroom facilities for males & females located on each floor.




9. Sarah Lawrence College - Yonkers, NY

At Sarah Lawrence 90% of undergraduate students live on campus in co-ed or single-sex residence halls, small apartments or town houses. The campus has three theme houses: Schmidt House is an Arts co-operative, Brebner is a Multicultural House and Perkins is the Good Life co-op.




10. Pace University - New York, NY

Approximately 1,800 students at Pace University in New York City live on campus. Most first-year students are placed in Maria's Tower or 55 John Street. Maria's Tower (pictured below) comprises floors five through seventeen and is just a short elevator ride away from classes, the library, and cafeterias. Dorms are equipped with complimentary Cable-TV, telephone, laundry, and High-Speed Internet access.




The Top 20

| | |
| --- | --- |
| College | Room/Board |
| 1. Eugene Lang College | $17,110 |
| 2. University of California - Berkeley | $15,308 |
| 3. Suffolk University | $14,624 |
| 4. Fordham University - Lincoln Center | $14,614 |
| 5. Fordham University - Rose Hill | $14,491 |
| 6. University of California - Santa Cruz | $14,172 |
| 7. St. John's University (Queens) | $14,000 |
| 8. Manhattanville College | $13,920 |
| 9. Sarah Lawrence College | $13,820 |
| 10. Pace University | $13,800 |
| 11. UCLA | $13,734 |
| 12. Cooper Union | $13,700 |
| 13. Chapman University | $13,510 |
| 14. New York University | $13,507 |
| 15. Olin College | $13,500 |
| 16. American University | $13,430 |
| 17. Marymount Manhattan College | $13,416 |
| 18. Harvey Mudd College | $13,198 |
| 19. Drexel University | $13,125 |
| 20. University of California - Santa Barbara | $13,109 |
Most Expensive College Dorms for 2009-2010

Most Expensive College Dorms for 2009-2010

Room and board can be a big expense on top of tuition and is a price that often gets overshadowed by high tuition prices. Take NYU for example, who has the 36th highest tuition, but factor in the cost of room and board and it becomes the 2nd most expensive college in the nation.

For the 2009-2010 school year, room and board increased 5.4% at public colleges and 4.2% at private colleges to an average price of $8,193 and $9,363, respectively.

These are prices a typical freshman will pay for room and board for the 2009-2010 school year. Prices are for a standard double room.

1. Eugene Lang College (The New School)

Location: New York, NY
Room and Board: $15,990

2. Cooper Union

Location: New York, NY
Room and Board: $15,275

3. Suffolk University

Location: Boston, MA
Room and Board: $14,544

4. University of California - Berkeley

Location: Berkeley, CA
Room and Board: $14,384

5. New York Institute of Technology - Manhattan

Location: New York, NY
Room and Board: $14,290

6. Fordham University - Lincoln Center

Location: New York, NY
Room and Board: $13,830

7. Fordham University - Rose Hill

Location: New York, NY
Room and Board: $13,716

8. University of California - Santa Cruz

Location: Santa Cruz, CA
Room and Board: $13,641

9. Manhattanville College

Location: Purchase, NY
Room and Board: $13,500

10. Chapman University

Location: Orange, CA
Room and Board: $13,384




The Top 20

| | |
| --- | --- |
| 1. Eugene Lang College (The New School) | $15,990 |
| 2. Cooper Union | $15,275 |
| 3. Suffolk University | $14,544 |
| 4. University of California - Berkeley | $14,384 |
| 5. New York Institute of Technology - Manhattan | $14,290 |
| 6. Fordham University - Lincoln Center | $13,830 |
| 7. Fordham University - Rose Hill | $13,716 |
| 8. University of California - Santa Cruz | $13,641 |
| 9. Manhattanville College | $13,500 |
| 10. Chapman University | $13,384 |
| 11. Sarah Lawrence College | $13,370 |
| 12. UCLA | $13,314 |
| 13. Olin College of Engineering | $13,230 |
| 14. New York University | $13,226 |
| 15. St John's University (Queens) | $13,140 |
| 16. American University | $12,930 |
| 17. Marymount Manhattan College | $12,874 |
| 18. Drexel University | $12,681 |
| 19. Pomona College | $12,651 |
| 20. Vanderbilt University | $12,650 |
Most Expensive College Dorms for 2008-2009

Most Expensive College Dorms for 2008-2009

The price of room and board at college continues to increase just as much as the rate of tuition. The average room and board expense for the 2008-2009 school year at public colleges is $7,748 and $8,989 at private colleges, an average cost that has gone up about 5% since last year. Looking at the rankings, many of the most expensive dorms are where you would expect them to be; in the heavily populated areas of California, New York and Washington DC.

Room and board is a huge expense. Take NYU for example, which ranks in with the 42nd highest tuition, but with room and board added in it gives NYU a total cost of over $50,000, placing it as the 3rd most expensive school in the nation. Take Sarah Lawrence College as another example; tuition at Sarah Lawrence is $39,450 making it the 8th highest tuition wise, but add in the whopping $13,716 for room and board and it easily becomes the most expensive college in the country.

These rankings are figured by taking the estimated cost of room and board for the school year. Prices are for a standard double room.

Eugene Lang College
Room and Board: $15,460



Cooper Union
Room and Board: $14,000



Suffolk University
Room and Board: $13,970



Sarah Lawrence College
Room and Board: $13,716



University of California - Berkeley
Room and Board: $13,170



Manhattanville College
Room and Board: $13,040



University of California - Santa Cruz
Room and Board: $13,038



UCLA
Room and Board: $12,891



NYU
Room and Board: $12,810



Marymount Manhattan College
Room and Board: $12,660





The Top 15

| | |
| --- | --- |
| College | Room and Board |
| 1. Eugene Lang College | $15,460 |
| 2. Cooper Union | $14,000 |
| 3. Suffolk University | $13,970 |
| 4. Sarah Lawrence College | $13,716 |
| 5. University of California - Berkeley | $13,170 |
| 6. Manhattanville College | $13,040 |
| 7. UC - Santa Cruz | $13,038 |
| 8. UCLA | $12,891 |
| 9. NYU | $12,810 |
| 10. Marymount Manhattan College | $12,660 |
| 11. American University | $12,418 |
| 12. Olin College of Engineering | $12,400 |
| 13. Georgetown University | $12,153 |
| 14. Drexel University | $12,135 |
| 15. Smith College | $12,050 |