Advice for College Freshmen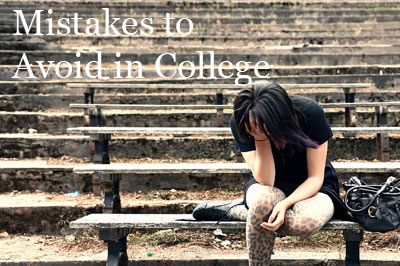 Common mistakes made in college and how to avoid them:
Don't take early morning classes if you're not a morning person. Odds are you will frequently miss this class by sleeping in and your grade will show it (10am is a good start time for classes).


Do not cram. It doesn't work, it never works. You will not remember any of the material you studied, especially for the long term. Isn't that the point of going to college, to learn?


Don't Double Major. Unless you really want to for your own benefit, other than that it won't help much when looking for jobs. Some colleges will recommend a double major to give you an advantage over other students, just so they get more money from students taking more courses. Having a second major is fairly expensive when you add it up: tuition, books, etc. More required courses means more money for going over the credit limit each semester. Go for a double major only if you know for a fact you can truly handle it.


Don't cheat. It is taken very serious in college and may even get you expelled or on probation.


Relax. Give yourself free time. College is hard work. Too many students time at college breezes by because they had their nose stuck in a book too long. Go out and meet people. This is supposed to be the best time of your life! There needs to be a balance between work and fun.


If you don't know what to major in, take a bunch of different college courses, especially in subjects that will interest you. Don't take random unrelated useless classes like the History of Pop Music.


Take your time in college. Don't rush through in 3 years. Most people who have didn't have as much fun as they could have. You miss out on opportunities you only get once in your life.


Don't cite Wikipedia as a source in your term papers. This has been a highly debatable topic over the years.


Choose your teachers wisely. Use friends' recommendations or online professor rating sites.


Don't spend too much time on social networks. Yes, Facebook may be a necessity in college, but limit your use and don't let it get in the way of your studying or your life in the physical world.


Get along with your roommate. You may have squabbles now and then but you all need to get along.


If you can survive without a car, don't bring one to college. Of course if you do you'll be the cool kid in the dorms with a car, but not having a car saves you money, being bummed for rides, and all those annoying parking tickets campus security guards love to hand out.


Don't procrastinate. Don't wait until the last few weeks of the semester to start working hard. Work your butt off at the start of the semester. Don't fall behind; it'll just make it harder to catch back up.


Party in moderation. Save it for Thursday-Saturday.


Learn how to say NO. Sometimes your homework is more important than that party going on. Have the courage to tell your friends no.


Be careful to what you post publicly on facebook. You never know who is watching.


Start looking for a job BEFORE you get out of college. So many students graduate without having a clue of what they want to do after college.


Take classes outside your major. This will open you up to new ideas, new people, different professors, new friends and will give you more of a well-balanced academic education. Take useful classes that will benefit you.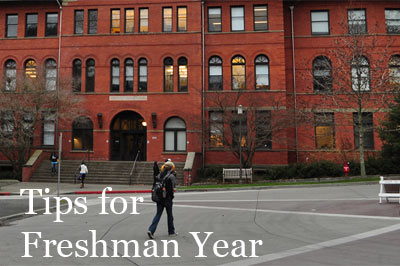 Going off to college is a big step in your life. There are many great activities you can get involved in, but there are also just as many bad things you can become apart of. The most important key to how to be successful in college is to find a balance between academics and social life.
Keep school work your number one priority no matter what. You won't have any parents around to keep you on task or out of trouble, which means there will be much more responsibility placed on yourself when it comes to academics. With all that is required in college, freshman year can be a real eye opener for some collegians.
Here we offer tips and advice geared toward college freshmen to help ensure the first year of college goes as smoothly as possible.
Tips for Freshman Year of College
You will actually have to try.
Unlike high school, college is much more difficult to just barely get by. The professors are more strict and expect much more than your high school teachers did. You should set goals for yourself when it comes to academics and make sure you are not spending too much time being social.
Find yourself a nice place to study or do homework. Study often and make sure you do all of your homework. Even if your professor doesn't assign much homework, take the initiative and get in good practice and review sessions.
Take college seriously from the start and remember you are working hard toward a college degree which will be very beneficial to your future and career.
Get on a Schedule.