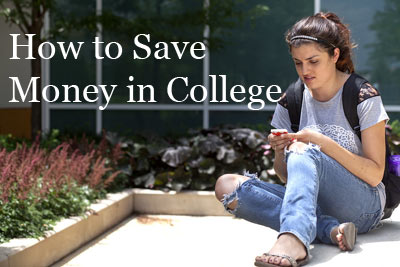 Being a college student usually means living and surviving on a cheap college budget.
Some of you may be pretty good at pinching your pennies and getting by, while others take out student loans and get themselves further into debt. Either way, all of us could use some additional advice and ideas on stretching our dollar just a bit further.
Here are some of the best ways to save money on a college campus. Follow these college money-saving tips and master the true art of living on a college budget.
How to Save on Food in College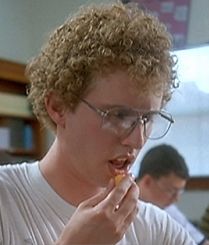 Learn how to cook your own meals. While it takes more time to prepare a meal, it's healthier and you'll save money in the long run.


Don't get a meal plan, the cafeteria food isn't usually that great anyways.


Bring your own snacks/water to class instead of buying them on campus. Stay away from vending machines.


Pack a lunch to bring to school. If you do it right, you can usually make it a healthier lunch than what the cafeteria has to offer.


If you have a meal plan, actually use it. If you don't eat on campus all the time, remove your meal plan or go with a lower-priced option.


Eat ramen noodles.


Don't get soda when you go out to eat. Opt for the healthier choice of water.


Don't go to Starbucks. Make your own coffee at home.


Buy food in bulk. Get a Costco card with your roommates and get bulk discounts.


Cut back on junk food. It's not only unhealthy, but expensive (for what it is).


Find events on campus that offer free food for attending. Follow those "Free Pizza" signs!
How to Save on Household Expenses in College
Have a roommate so you can split expenses.


Shop at Walmart, Dollar Stores, and thrift shops.


Shop garage sales and Craigslist for any household items you may need.


Shop used. Not everything you buy has to be new. Really. Dorm life can be rough on a lot of your possessions, so buying things used can give you peace of mind in several ways, namely that you saved money. Second-hand stores often have good merchandise—even Goodwill can carry some really nice clothes. Pawn shops or used media stores can offer a wide-selection of used games and DVDs that you can buy for a lot less than if they were new.


Put on more layers of clothing instead of turning up the heat.


Don't get cable TV.


Buy generic brand items.
How to Save on College Textbooks
Buy college textbooks online. Also consider textbook rental, buying in digital form, or getting the international edition of the textbook for additional savings.


Buy used textbooks. This is probably the most popular way to save money as a college student. Amazon is probably your best bet as far as getting the best deal from a reputable online seller who can ship it out to you as soon as possible. (Sign up for a free 6-month trial of Amazon Prime Student to get free two-day shipping.)


Use textbook coupon codes when ordering textbooks online.


Check the library for textbooks, you may get lucky! Many times you will find a copy of the current textbook or a previous version on hand. Older versions are nearly the same as their newer counterparts, with maybe the difference of different page numbers or chapters moved around, but in some cases the newer edition is the same, word for word.


Share textbooks with classmates. This is a common practice where two or more individuals buy a textbook together and then have study sessions together.


Use audiobooks from Audible.com and study on the go. Take advantage of their two free audiobooks deal and trying a free trial of their service.


How to Save on Transportation Costs in College
Use public transportation. Being a college student, you can usually ride for free or at a reduced rate.


Don't bring a car. They are a huge expense and cost a lot in insurance and gas. Instead, use services like ZipCar and Uber.


Ride your bike. Except for commuter students, no one needs a car on campus for daily use. You'll get your exercise and be able to easily maneuver through the campus on wheels.


If you do bring a car, only use it when you really need it. With everything you need within walking distance, there is no need to waste gas or lose that precious parking spot.


Live close to campus and use the campus shuttles to save on gas.


Carpool with friends.
How to Save on College Entertainment
Keep an eye out for free activities on campus. Most college campuses have free entertainment almost every night of the week. For example: some colleges have a weekly movie night that is free to all students.


Borrow movies from the library. The library has a large collection of movies for students to check out.


Going to the movies can get expensive. If you do go, try to stay away from the expensive concession stand foods. Sneaking in a pack of M&M's or Skittles is easy and definitely cheaper.


Have a game night with friends instead of going out.
How to Save on College Expenses
Fill out the FAFSA every year.


Take a look at your college bill. Certain fees are optional. If you won't be using your college's fitness center, remove the fee.


Depending on dorm prices, it may be cheaper just to get an apartment.


Don't buy anything from the school's bookstore. Some of the prices they charge are outrageous.


Go to a community college and get your core classes completed, then transfer to a 4-year college for required classes for your degree. Make sure all your credits will transfer.


Do not use student loans for anything that is not school-related. It's tempting to rack up your credit and loans, knowing you'll eventually pay it back. However, you have no idea how the economy will look when you graduate and you don't want to be in massive debt while job searching.


Test out of classes. For a small fee you can usually take a test to fulfill certain class requirements. Think of the cost you'll save on tuition as well as the time you'll save on fulfilling the requirement.


Finish college in three years if you can. Doesn't sound fun and not for everybody, but certainly an outside-the-box option for go-getters out there.


Apply for financial aid early.


Get good grades so you can qualify for merit-based grants and scholarships.


Be an RA and get free room and board.


Take as many credits as you are allowed to take every term.


Research your school for scholarships. This means taking a look at the website, contacting the admissions office, scholarship office, and faculty to see what's available. Use every resource you have to get the big scholarships while keeping your eyes open for smaller, but still substantial ones. Look for scholarships in the area of your major. Most professional organizations will have scholarships to encourage students to stay in that field.


Take advantage of student services. There are plenty of free programs that assist you while going to school. From health care to transportation, there are many different ways to save money.


Take advantage of things that are already paid for, such as on-campus meals and library services.


Start a college club. You can organize a student club around one of your hobbies and typically get funding through your school.


Get a job and have your employer pay for your schooling.


Instead of doing a traditional spring break trip, try an alternative spring break as a more affordable option that gives you an opportunity to both travel and volunteer to do something meaningful.
Money Tips for College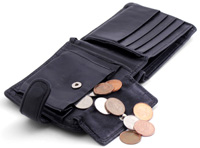 Only buy what you need. Don't buy on impulse.


When making a big purchase, sleep on it. This will give you time to decide whether or not you actually need the item.


Don't get a credit card. It's not necessary and comes with a high interest rate. You want to limit your debt as much as possible while going to school.


Pay for things with cash as much as possible. Put off buying things until you can actually afford it.


If you do decide to go with a credit card, get a student-friendly credit card. Just don't run up credit card bills for trivial things. It's very easy to rack up credit card debt.


Automate your bill payments and never get another late penalty.


Open up a savings account that earns interest.


Bank at a credit union. They will have lower fees and provide a better interest rate. Some places even offer a student account with additional benefits.


Keep track of everything you spend. It really helps to know what you have coming in and going out each month so you are left with a better picture of the amount of disposable income you have. Use Mint.com to manage your finances.


Use your student ID to get student discounts.


Use coupon booklets. Almost every campus out there has offers that allow you to save money one way or another. With coupon booklets, the best practice is to gather a large number of them (some schools have two or three different booklets) and tear out the ones that you know you will use at some point, like haircuts, restaurants, clothing stores, print shops, and any other place you might go throughout the semester. Lots of bars and restaurants offer free appetizers or buy one get one free entree coupons, so definitely take advantage of those.


If you really want to pinch your pennies, go with a prepaid cell phone. This is helpful for knowing exactly what your cell phone bill will be each month.


Take advantage of free stuff. You'd be amazed. Companies and organizations offer free products and services as a way of acquiring new customers (college students are a highly-coveted market). Sometimes banks offer free money for starting a student account. Some colleges give away supplies and food, not to mention the various college clubs.


Collect your spare change. Use something you can store it all in and when it fills up, take it into your bank and have it sent through their coin-counting machine.


Not only should you try to save money, but you should also try to make money in college. Get a campus job. There are several jobs that have very little responsibility, believe it or not, and many times you can do your homework during this time. There are typically many jobs available on campus and most are pretty flexible with your class schedule.