Colleges want students who take initiative in their learning. One way to do this is through MOOCs by making an effort to learn on your own time.
Known as massive open online courses, these online courses allow anyone with an Internet connection to pursue an interest in learning.
Why should prospective college students take MOOCs?
Students preparing to enter college can take these courses to ease the transition to college by getting a taste of college-level coursework. These online courses allow students to dive deeper into a subject they have an interest in and get a head start on their prospective college major.
Taking these classes demonstrates interest and shows a passion for learning. It is a chance to set yourself apart from others and provide yourself with a well-rounded education or solidify experience in a specific subject.
If you are applying to colleges, completing these courses can help prove that you're university-ready.
That's how MIT found Battushig Myanganbayar, the student from Mongolia who stood out in a MOOC and was accepted into the school.
"Given that we know how rigorous MITx classes are, seeing a student's performance in that class can help calibrate us to their readiness for an MIT education."
Benefits of Taking MOOCs
Can help close the college readiness gap
Further your education
A cheap and easy way to explore a possible major
Gives you an idea of college-level coursework
Can help cover any subject gaps in your transcript records
Gain added experience in a specific subject
Keep yourself busy over summer break
Here we provide 10 MOOCs that will prepare you for college. Now, one may not have time to take all 10 of these courses, but this list helps narrow it down from the hundreds of MOOCs that are out there to a specific few useful online courses that will prepare incoming college students. Many of these are self-paced courses you can take at your own schedule, and the great thing is, they are free to take.
1) Learning How to Learn: Powerful mental tools to help you master tough subjects via University of California, San Diego

What you'll learn: Gain powerful learning techniques that work—something that will come in very handy in your college career and beyond.
"Students get exposed to many new concepts: focused and diffused modes of brain functioning, working memory, short term memory and long term memory, learning techniques like chunking, spaced repetition, recalling in different environments, avoiding tendencies to procrastinate and so on. … Anyone can improve their learning habits by doing this interesting course."
2) Social Psychology via Wesleyan University
What you'll learn: One of the most popular courses on Coursera, this introduction to classic and contemporary social psychology provides understanding of human behavior and the process behind persuasion and decision making—very useful for building people skills in college.
"Provided me with an enlightening experience where my own views were challenged and our cultural differences were exposed… I also found out that I am (occasionally) able to apply it in my daily life, making my personal and professional relationships way better than they were in the past."
3) Introduction to Mathematical Thinking via Stanford University

What you'll learn: Practice and enhance your critical thinking skills and learn how to think outside the box.
"One of the most useful, real-world applicable courses on Coursera or the entire Internet, and I would recommend it to anyone. It's so rare that a course teaches a new way of thinking, rather than new concepts or new data."
4) Introduction to Environmental Science via DartmouthX
What you'll learn: Become more aware of the environment around you and discover what your influence is on patterns and processes in the modern world. When you are more in touch with your surroundings, you are more a part of your community.
"This course has inspired me in so many different ways. The only way to change the world we are living in for the better is to be aware of what needs to be changed - and this course specialized in that!"
5) Introduction to Philosophy via University of Edinburgh
What you'll learn: Spark the creative side of your brain by opening up the mind up to new ideas and perspectives in this introductory course in philosophy.
"A very interesting course forcing you to think in a completely new manner."
6) Calculus One via The Ohio State University
What you'll learn: This course shows real-world applications of calculus and examines uses of calculus appearing in everyday life. Calculus plays a big role in many of the science fields, so this course is ideal for students considering engineering, physical, and social sciences.
"You will really come out thinking about math in a different way."
7) CS50x: Introduction to Computer Science via Harvard University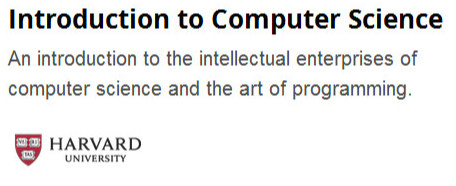 What you'll learn: Problem solving and an introduction to computer science for both majors and non-majors. Highly regarded as one of the best online courses, the on-campus version of CS50 was Harvard's largest course in the fall semester of 2014.
"Much more than any other learning experience I've ever had online because it successfully managed to make it a journey. CS50x isn't just the quintessential Harvard course, it's now the quintessential online course."
8) INFO2040x: Networks, Crowds and Markets via Cornell University
What you'll learn: How to navigate through the highly-connected world we live in through analysis of social networks and group behavior.
"This course is like putting on a pair of glasses on for the first time, and actually seeing how people interact within networks."
9) Inspiring Leadership through Emotional Intelligence via Case Western Reserve University
What you'll learn: Build leadership skills and gives you an opportunity to apply the learning to your daily lives.
"This course might help you become a better leader, but a better (more aware) person as well. It helps you understand your inner "you" and how to interact with other people."
10) Introduction to Nutrition – Food for Health via Wageningen University
What you'll learn: What NOT to do to gain the Freshman 15. Good nutrition is needed for a proper functioning brain and body, so it's important you are making the right food choices when you're away at college.
"The professor was engaging and clearly an expert in the topics he covered. I learned a great deal, both in general knowledge and in specifics that I can apply to my own eating."
Whether you are preparing to enter college or not, take a MOOC this summer and improve yourself.
MOOC Resources: Edx, Coursera
MOOC Reviews: Class Central, CourseTalk