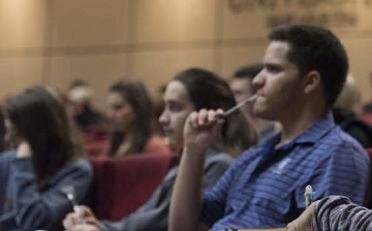 The college search process is long and grueling and often leads to some stressful decision making. Deciding on what college to attend can become an overwhelming experience, and for good reason. After all, there are hundreds of them across the country, all great schools for different reasons. Your first step is to take a deep breath and relax. You want to be completely in control and focused as you go on to make this decision.
Here we'll point you to some useful resources and cover some important topics to get you started in the college search process. In the end, it is you that makes the decision of where to attend college. Parents, teachers, counselors, college search books and websites can only guide you so far. Only you know what you truly want in a college.
Understanding College
First, let's get a few myths out of the way.
Read: The Difference Between High School and College.
Types of Colleges
Decide:
Community College or 4 year
Online or Campus
Public or Private
In-State or out of state
Planning Ahead for Admission to College
Start Early: Starting your college search well in advance will give you plenty of time to prepare and perfect your college admission application.
Getting a Jumpstart on your College Search
Useful resources to get started on the college selection process:
To Do: Ask for Letters of Recommendation
Even before you have narrowed down your college choices, you'll want to start approaching teachers about getting a letter of recommendation. Ask early, as the favorite teachers always get swamped with recommendation requests around the same time of year. Make sure you get a recommendation from the teacher you connect with the most, who knows enough about you to write a strong personal recommendation. Colleges use these letters to make a decision on whether or not to accept you, so you can see the importance of getting a solid testimonial.
Find colleges that meet your selection criteria
Find colleges that fit the needs of what you're looking for in a university. It is important that you take the time to research these colleges to make sure you will be a good fit at the school. This will reduce your likelihood of transferring later. It is wise to apply to enough schools so that you have a first choice, second choice, backup, etc. Ideally, you should apply to a handful of colleges (4-5) just in case you don't get accepted to your first couple of choices.
Some notable college selection factors to consider include:
Location
Location is a big factor that can affect college success and your wallet. Some students may prefer to go to college closer to home while others don't let the location of the school keep them from attending. If you want to be near family you may want to consider colleges in your home state. If you can handle being away for college and not getting homesick, then branch out and check out schools further away. Just be aware of the additional travel costs to come home for visits. Obviously, the cost of living in some cities is going to be a factor as well. (Just see how New York dominates this list of colleges with the highest room and board costs.)
Public or Private...Does it matter?
While private universities are perceived to be more expensive, many of them actually offer outstanding financial aid packages in the form of grants and scholarships, with many meeting 100% of a student's financial need. Private schools also usually offer smaller class sizes for a more personalized learning experience. The lesson: don't single out a private college just because you think it is more expensive.
Size of the College
What is the student-teacher ratio of the college? If a class of 200 students does not appeal to you, then you may want to stay away from large public universities. Some public universities are so large that some students can feel lost in the crowd. This could be another reason to attend a smaller school.
Selectivity
Perhaps your grades or test scores aren't as high as you'd like them to be. Check out colleges that are a little more lenient on admission. If you are researching your admission chances at certain colleges based on your grades and test scores, you can use websites like College Navigator to look at previous admission statistics for each school. If you apply to colleges that are a bit harder to get into, like the Ivy League, you better know what it takes to get in.
B Schools
For you "B" and "C" average students out there, you still have some options. While getting into a college with tough admissions may be a stretch (even students with all A's don't get in), don't worry, there are still plenty of colleges out there for you to get a quality education and still have a good chance of getting in.
Of course, if you are really concerned about getting in, you could attend your local community college for two years and then transfer to an in-state 4-year school. Many states have guaranteed admission programs like this where students who complete a 2-year degree from a community college are guaranteed admission into an in-state university.
What do you want to major in?
Do you have a certain career in mind? While you don't necessarily have to decide now, it can be helpful in selecting schools that are stronger in certain programs. Students who know this in advance have the advantage of selecting schools that can better groom them for their prospective career.
See: Choosing a Major
College Rankings
While college rankings shouldn't be used as sole criteria for applying to a college, they can be useful in determining what colleges are stronger in certain areas and programs of study.
Can you afford it?
It's time to start thinking about how you will pay for college. This will probably have an impact on what college you attend. If your parents already have that handled for you, then you have nothing to worry about. However, most students make use of financial aid to pay for college.
If cost is a factor in your college selection process, consider these schools known as "Best Value" colleges.
Best Value Public
University of North Carolina
University of Virginia
University of Florida
William and Mary
UCLA
Best Value Private
Yale
Princeton
Rice
Harvard
Duke
Best Value Online
Keiser University
Colorado Tech
Financial Aid
Regardless of where you choose to go to school, you'll want to start looking into loans, grants, and scholarships available to you. If you have questions you can talk to your guidance counselor or attend financial aid events that are hosted by local schools and organizations.
There are many options to help you pay for college:
In order to obtain financial aid, every student must complete the FAFSA.
When it comes to college loans, it's important to only borrow what you need. Private student loans should only be used as a last resort, as these tend to not have as favorable borrower terms as a student loan from the government. Use a student loan comparison tool for getting quotes on these types of loans so you can ensure you are getting the best rate on your student loan.
College Visits
Once you have a few colleges in mind, you will want to go out and visit the colleges. It's never too early to start checking out campuses. You can attend open house events or you can call and make an appointment for a personalized tour. This is your chance to ask questions about class size, majors offered, campus life, and anything else that is important to you when selecting a college.
Student Reviews
You'll also want to check out student reviews of the colleges you are looking at. Obviously, not every college is perfect (See: College Complaints), but it's nice to get an opinion from students who have actually attended the school. Niche and Unigo can be useful for getting unfiltered reviews from real students who offer up what they like and dislike about the college.
Useful Websites for your College Search
Useful Books for your College Search
Applying
Make sure you submit all of your application materials by the college deadline to ensure proper review of your application.
While filling out multiple college applications can be time consuming, it's important to take your time so you are neat and organized and are showcasing your best stuff. You can use the Common Application to easily apply to more than one school at a time if you wish to simplify the process.
Terms to know:
Early Action
Early Decision
Rolling Admission
College Admission
Common Essay Questions
Common Interview Questions
Letters of Recommendation
SAT Scores

Extra Bonus Tips for Admission
Stay in Contact - Respond immediately to all questions and provide additional information if you are contacted by the college admissions department. Don't be afraid to call the admissions office (applicants, not parents). Many colleges keep a contact log, and this is another way of showing interest.
Use a Professional Email Address - When communicating with the admissions office, use a Gmail address (or similar service) that is just your name and maybe some numbers. Sending e-mails to admissions staff from "This email address is being protected from spambots. You need JavaScript enabled to view it. " or something similar is just awkward.
Send a Thank You Note - If you meet a college rep at a college fair or event, send a thank you note. Make sure you include specifics of the meeting to help them visualize who you are. They make note of this. The admissions office will keep track of every contact you make with them, so persistence can pay off.
Don't use the Common App - Think about it, why do people use the Common App? Because they are applying to multiple colleges. You want the college to think they are your number one choice.
Heading to College
College Readiness Checklist
What you'll need to bring
Skills to know before heading off to college