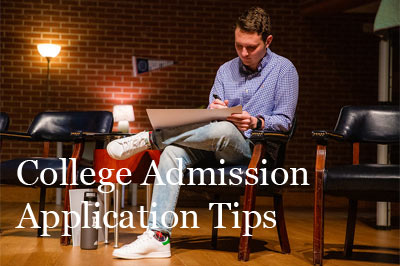 Follow these admission tips when filling out and preparing the college admission application.
Start early - While this won't help your chances of getting in, it will give you plenty of time to prepare and perfect your college admission application.


Have a backup plan - Apply to more than one school. You should apply to about 4 or 5 colleges just in case you don't get accepted to your first couple of choices. While everyone wants to go to the top colleges, many admission applicants will find that these are some of the hardest to get into. Have a backup plan, such as a community college or other colleges that are easy to get into.


Career Counseling - Meet with a college career counselor to go over any college admissions questions you may have.


Common Application - If you can, use the Common Application to easily apply to more than one school at a time.


Proofread the Application - Make sure you fill out the application completely.


FAFSA - Get it in on time. You will want as many grants and scholarships as you can get to pay for college. College scholarships will greatly reduce tuition expenses.


Admission Deadlines - Watch those deadlines. There are different deadlines for admission applications, financial aid, and transcripts.


Apply Online - Many colleges give the option of applying for admission online. This is a great way to speed up the college application process.


Admission Application Fees - Remember to include any application fees, if required.


College Admissions Essay - Master the college admissions essay. Write about something you are enthusiastic about. Proofread many times and revise. Use your own words, rather than picking words out of the thesaurus.


Letters of Recommendation - Have your best teachers write you letters of recommendation.


Follow Up - Make sure the college receives all required information and documents.


SAT - You can take the SAT as many times as you like. A higher score will increase your chances of getting accepted.


Stay in constant contact - Respond immediately to all questions and provide additional information if contacted by the college admissions department.


Thorough College Evaluation - Thoroughly evaluate the college you would like to apply to. Ask questions, do a college visit, read up and do your homework.
These are general tips on college admission. Of course, there is more required if you are applying to an Ivy League School.