It is common knowledge that college students like to eat, and eat a lot they do. Thanks to the popularity of the freshman 15, everyone knows the typical college diet isn't always the most nutritional, as seen in this top 10 list of classic college diet food items for the typical budget-conscious student:
Top Ramen – Best 13 cents ever spent.
Mac & Cheese – The classic: macaroni and cheese (Tip: Use the garlic butter left over from your Papa John's pizza.)
Pizza by the Slice – Face it, pizza is a main part of the student diet.
Taco Tuesday – More than likely there is a restaurant/bar near campus that offers all-you-can-eat tacos on Tuesdays.
Costco Dog - $1.50 gets you a huge polish dog and a bottomless soda (Note: Hit up the samples first, then the Costco deli.)
PBR – Pabst Blue Ribbon Beer, it's one of the cheapest and gets the job done.
PB&J – Peanut butter and jelly sandwiches. Just like Mom used to make.
Tater Tots - Yet another cheap carb/starch on the list of the typical college diet.
50 cent sodas – There's no cheaper soda than your local store's brand-name drinks.
Oatmeal/Granola – Great for breakfast, it's cheap and will keep you full until lunch.
Cheap Healthy Foods for College Students
For those of you out there that have not just a wallet to watch, but a waistline, here's a list of foods that are good for you that are student budget-friendly. If you think you can stick to a budget and be happy without eating out or eating junk all the time, then go through the following list of healthy and cheap food items for students and start making better college diet decisions.
Eggs - Almost nationwide you can get a dozen eggs for under $2.00 or $3.00. They are a great source of protein and antioxidants. You can make your traditional breakfast eggs or get fancy and make a sandwich out of them!


Potatoes - Potatoes are loaded with good stuff (keep the skins on!). Your basic potato contains lots of potassium and vitamin C. There is also an endless list of things you can do with potatoes that make them very versatile.


Apples - Apples are inexpensive, always in season, and come in plenty of varieties. They contain pectin (fiber that reduces cholesterol) and vitamin C.


Melons - While whole melons might cost a few bucks, you probably aren't going to eat it all at once. You can eat cut melons over the period of a few days and really get your money's worth.


Clementine - Clementines are those tiny little oranges that you often see in the little rectangular boxes. They are easy to peel—can be done with fingers in under a minute—and are sweet, delicious, and good for you.


Nuts - Nuts sometimes get a bad rap for having a high fat content. However, it is a good fat: unsaturated & monounsaturated. They are also a quality source of Vitamin E and protein.


Bananas - Bananas are very inexpensive and you can often purchase a week's worth for under $2.00. They are high in fiber and potassium, not to mention an easy way to get your daily recommended servings.


Beans - Beans are, as everyone knows, the magical fruit. You definitely get bang for your buck here: beans are packed full of iron, folate, fiber, and manganese. There is a multitude of beans to choose from as well, so feel free to explore.


Brown Rice - Brown rice is typically just a little bit more expensive than white rice, but it is a lot better for you. It has low fat content, is high in protein and fiber and provides a great source of whole grains as well.


Pasta & Sauce - Who doesn't like spaghetti or pasta with Alfredo sauce? All you need to do is grab any kind of pasta and your favorite sauce. This meal is loaded with carbohydrates and takes only minutes to prepare.


Spinach - Spinach can be shredded up and put on almost anything (like pasta!) as an added flavor. You can throw spinach into a bowl and throw a little dressing on it and eat it like a salad. This is one of the best dark green and leafy plants under the sun.


100% Juice - True, the 100% juice is a little on the pricy end. However, you should realize that it will be consumed one glass at a time over the period of a week. It's a great way to start the mornings: not only does it taste great, but you'll be getting tons of good, all-natural ingredients.


Yogurt Covered Raisins - These can be a little more pricy, but assuming you don't eat them all at once, they are a good deal.


Cereal - No kid's sugar cereals here, there are "grown-up" cereals that taste great and are a very great way to start off the day or eat as another meal.


Chicken, Beef, & Pork - Before you go shopping, think of some meat dishes you can easily make and eat as leftovers. Always be thinking about what you can spread out over a few days and still be satisfied with.
Cooking and Eating Healthy in College

As a college student, you know that the meals in the campus cafeterias are not always healthy and great tasting. Some schools think they are doing you a favor by providing fast food franchises and the same food over and over gets old after awhile. Believe it or not, you can provide yourself with healthy meals that are easy to make for college students.
Small Cooking Appliances for College
If you live in a dorm, be sure to check with your school regarding rules for cooking appliances, as some of them are considered fire hazards in small areas. If you are allowed to have small electrical appliances, then there are a few affordable options that are convenient for cooking in college.
Microwave: Some colleges will provide microwaves to each student in an on-campus dormitory. Microwaves are the ultimate in convenience as you can cook practically anything in these appliances.
Toaster Oven: These appliances are perfect as you can do everything from making toast to baking a small pizza.
George Foreman Grill: You can purchase a small indoor grill for less than $20 and use it for everything from grilling hamburgers to chicken. The best thing is that it helps you to grill food in a healthier manner.
Skillet or Griddle: A small skillet will allow you to whip up tasty stir-fry dishes and a griddle will give you the freedom to cook pancakes and other breakfast foods.
What can you cook in college?
So you are probably thinking that you do not have the money for steak and lobster, yet you want to fix your own meals that actually taste good.
Quick Cheap Meals for Students:
Hot Cereals: You can purchase instant hot cereals such as oatmeal and Cream of Wheat. All you need to do is boil water or stick it in the microwave and within minutes you have a healthy breakfast.
Grilled Cheese: Bread and cheese is cheap and if you put it together you can fix yourself a grilled cheese sandwich.
Eggs: You can scramble eggs on a griddle and add a side of toast.
Pasta: If you have your own apartment then go ahead and boil up some pasta and top it with your favorite sauce. You will have a perfectly healthy meal balanced with vegetables and protein, yet it only took you minutes to make.
Burgers: Purchase the pre-made hamburger or turkey patties. You can throw them on your George Foreman grill and in a few minutes you can have great tasting burgers.
Don't forget to purchase paper plates, bowls, cups and flatware. If you are cooking in a dorm, be sure to keep your dirty dishes to a minimum. The next time you are in the library, look for college-oriented cookbooks. These types of books have tons of healthy recipes for the college student on a budget. Be creative. Chances are, you can have a restaurant-style meal for half of the cost and effort.
Recommended College Cookbook:
10 Cheap Quick and Easy Snacks for Students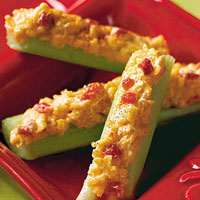 Odds are, if you're a college student, you're running pretty low on cash. Listed below are great snack and appetizer ideas that are cheap and relatively easy to make, yet still tasty. Most of these can be made without spending more than $8.
Deviled Eggs - These are actually pretty easy and fun to make, once you master how to boil an egg. You can mix and match ingredients on your yolk mixture to a taste of your liking, depending on how spicy and pickled you like it. Chopped jalapenos are a good choice, and paprika or some kind of Cajun seasoning is a must for sprinkling on the top.


Little Smokies - This might be one of the easiest, yet tasty treats on this list. Simmer a package of Little Smokies in BBQ sauce and call it good. You can cook these in a variety of ways, but most seem to prefer the crock pot.


Easy Chip Dip - Simply take shredded Mexican cheese, chunky salsa, and sour cream and mix together for a delicious chip dip.


Focaccia Bread, Olive Oil and Balsamic Vinegar - A great starting appetizer and something a little different.


Celery with Easy Cheese - Pretty quick and simple appetizer here. Simply fill the celery stick with easy cheese. A nice crisp and cheesy taste for a very low cost.


Chopped Apples and Caramel Dip - Here is a nice and somewhat healthy easy dessert dish. Your only chore here will be slicing the apples.


Chex Mix - Making Chex mix is always fun. You can either go sweet or salty with your home-made Chex mix. The salty version usually consists of an assortment of Chex cereals, chips, pretzels and crackers. The sweet version usually contains chocolate and peanut butter with Chex and other ingredients.


Tuna and Crackers - Mix up some tuna salad and use as a dip for saltine crackers. A nice, salty protein snack.


Garlic Bread and Ranch Dip - Garlic is another flavor that goes well on the taste buds. If you're stressed for time, this can be prepared with little or no effort at all.


Spicy Meatballs with Pineapple - These can be either heated in the oven or on the grill, but they are much better off the grill. For a marinade, you'll want to use some type of spicy Jamaican or Cajun sauce. The combination of the spiciness of the sauce, smokiness off the grill, and sweetness of the pineapple is a great mix of flavor.