Applying to College
Tips for Applying to College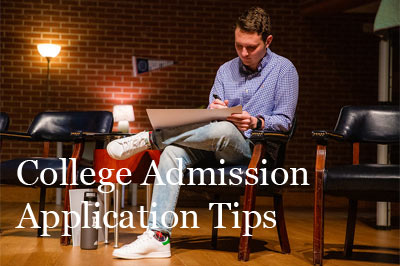 Follow these college admission tips when applying to college and preparing your college admission application.
Start Early - While this won't help your chances of getting in, it will give you plenty of time to prepare and perfect the college application.


Have a Backup Plan - Apply to more than one school. You should apply to about 4 or 5 colleges just in case you don't get accepted to your first couple of choices. While everyone wants to go to the top colleges, many admission applicants will find that these are some of the hardest to get into. Have a backup plan, such as a community college or other colleges that are easy to get into.


College Counselor - Meet with a college counselor to go over any questions about applying to college you may have.


Common Application - If you can, use the Common Application to easily apply to multiple colleges at the same time.


Proofread the Application - Make sure you fill out the application completely.


FAFSA - Get it in on time. You will want as many grants and scholarships as you can get to pay for college. College scholarships will greatly reduce tuition expenses.


Admission Deadlines - Watch those deadlines. There are different deadlines for admission applications, financial aid, and transcripts.


Apply Online - Many colleges give the option of applying for admission online. This is a great way to speed up the college application process.


Admission Application Fees - Remember to include any application fees, if required.


College Admissions Essay - Master the college admissions essay. Write about something you are passionate about. Proofread the essay many times and revise. Use your own words, rather than picking words out of the thesaurus.


Letters of Recommendation - Have your best teachers write you letters of recommendation.


Follow Up - Make sure the college receives all required information and documents.


SAT - You can take the SAT as many times as you like. A higher score will increase your chances of getting accepted.


Stay in Constant Contact - Respond immediately to all questions and provide additional information if contacted by the admissions department.


Thorough College Evaluation - Thoroughly evaluate the college you would like to apply to. Ask questions, do a college visit, read up and do your homework.
These are general tips on applying to college. Of course, more may be required if you are applying to an Ivy League School.
Various Ways of Applying to College
Early Action

Some high school seniors have their hopes set on admission to one specific college and that's it. They know right away that, if accepted, they will attend their first choice school. But, they also don't want to be left in the dust should they not get into their top choice. Fortunately, there is a way to find out if you can get into your intended college and still give yourself time to consider other options (if you don't get accepted).

Many colleges offer a convenient way of applying known as early action. This is where you can apply to your first choice school earlier than usual and receive an earlier notification on your decision. Early action has its pros and cons, so you should carefully analyze if it is an application process that would benefit you.

What is Early Action?

Not to be confused with early decision, early action is a program offered by some colleges and universities where you can apply to their school before the normal deadline. You will also receive a decision on your application earlier than normal as well. The average deadline for applying for early action is November, but can vary from school to school. The admissions office will let you know of their decision around December.

Benefits of Applying Early Action

There are good things about applying early action that make the program beneficial for a lot of students.

Non-Binding: You can apply early action, but you will not be bound to attending the school if you are accepted. This means you can field letters of acceptance from other schools before making your decision.


You can decide early. Some students really will attend their first choice school if they are accepted. By using early action, they can apply and begin the admission process earlier, instead of waiting until later in their senior year for the traditional deadline.


Non-restrictive: You can apply to more than one college or university under the early action program. This will allow you to not only apply to your first choice school, but any other schools you may want to attend.

Disadvantages of Applying Early Action

As there are pros, there are also cons to applying early action. Keep these in mind before applying early action to the school of your choice.

Single-Choice Early Action: This is a new version of the early action program that is being used by some schools. Single-Choice Early Action is NOT binding, however under this program you can't apply to other schools using their early programs. You can, however, apply for regular admission to other schools.


Competitive: Students who rank high in their high school class usually utilize early action for admission. These students are usually highly intelligent and gifted; therefore admission during early action periods is very competitive.

Early action should be used by students are who are confident in their grades and testing scores. They should also be certain that the school(s) they apply to early are the schools they will most likely attend. If you are unsure of the school you want to attend or would like to throw your application out to a variety of schools, you should stick with the regular admission process.
Early Decsion

Some high school students know exactly which college they want to attend and have no other schools in mind. Maybe it's the school their parents attended or it is the university that is within driving distance of home. Whatever the circumstances are, these types of students would be ideal for applying to college using Early Decision. If you are a well-rounded high school student who can back up your application with grades and activities, and you know there is only one college you are certain you want to go to, then you should apply early decision.

What is Early Decision?

Early decision programs are offered at many colleges and universities across the country. These programs give students a head start on the admission process by allowing them to apply early. These students will also receive notice of a decision earlier than usual as well. By applying under the early decision program you are showing your first choice school that they are your top choice and you are committed to attending their school. Before applying to your intended college with early decision, there are a few things you should think about to see if this is a good admission process for you.

Benefits of Applying Early Decision

Head Start: Applying as an early decision candidate gives you a head start on the college admission process. You will have an earlier deadline for your application, usually November, however you will also receive a decision earlier. If accepted, you can get a head start on other paperwork such as dorm assignments, college interviews, financial aid and more.


Admission Rates can be Higher: Statistics show that colleges and universities accept more early decision candidates than they do regular candidates. Part of this reason is because early decision candidates are positive about their decision to attend the school.


Two Chances of Admission: If you are declined as an early decision candidate, you may still be eligible as a regular candidate. Check with the college to see if you would have to resubmit your application for regular admission or if your application will automatically be reverted over to the later deadline.




Disadvantages of Applying Early Decision

Binding: Unlike early action, if you apply as an early decision candidate, your admission is binding; meaning if you are accepted, you have to attend the school. That is why this program is ideal only for students who not only fit the profile of students at the school, but who are certain that they want to attend the school. This means that you should also research tuition costs and financial aid eligibility prior to applying.


Restrictive: You can't apply to any other "early" programs at any other schools. You can, however, apply to other schools under regular admission guidelines.

Early decision is a program that is perfect for students who are confident in their first choice school. The ideal student is one who knows exactly which school they want to attend and knows that they have the resume to be granted admission. Research your intended college and take a look at the profile of the last incoming class so you get an idea of the kind of numbers you are up against.
Rolling Admission

For the student who waits until the last moment or who is unsure of where they would like to attend college, then a rolling admission program may be ideal. A lot of schools offer this as a way to entice more students to apply to their school without the stress of a deadline.

What is Rolling Admission?

Rolling admission is offered by some colleges as a way to open up the admission period for incoming students. Instead of a standard deadline for applications, they will accept applications over a longer time frame, usually 4-6 months, until the incoming class is filled. You will receive notice of a decision shortly after your application, no matter when you submit it. There are advantages and disadvantages of using rolling admission that should be considered ahead of time.

Benefits of using Rolling Admission

Since there is no standard deadline, you have a longer period of time to complete your application and submit it to your intended school. This is perfect for the student who is looking for backup schools in case they are not admitted to their first choice. It leaves them plenty of time to apply to another school before the end of their senior year of high school.


Less pressure. Since there is no standard deadline, students don't feel pressured to hurry and write that winning admission essay and it gives them extra time to try and boost their GPA before submitting transcripts to their intended college.




Rolling Admission Disadvantages

Since rolling admission has such a wide open admission period, students who wait until the very end may be denied as the school may have filled their limit of incoming spots.


Most colleges have an allotted amount of money for grants and scholarships for incoming students, however these funds are awarded on a first-come, first-serve basis to eligible students. The student who waits until the last minute may miss out on money that would otherwise help pay for tuition.


On-campus housing assignments are awarded early, so if you wait until the last minute to apply to a school, you may not be eligible for housing or you may be put on a dorm waiting list. This could pose a problem for the student who applies to a out-of-state school and who would otherwise need on-campus living arrangements.


Just because a school offers rolling admission does not mean that they prefer students to wait until the last minute. If you apply during the normal deadline, you will stand out as a student who is more dedicated to the institution.

Applying as a rolling admission candidate can be beneficial to certain students. For example, if you are going to be a commuting student and you will most likely be funding your tuition with loans, then this type of admission program would be perfect. Otherwise, it is recommended that you apply to your intended school(s) early enough to be considered for grants, scholarships, and on-campus housing.