Whether it's beautiful architecture or an amazing view, just sitting in an inspiring place can instantly give one a greater sense of wisdom and well-being. Wide-open, beautifully-designed study spaces allow students to spread out, focus, and achieve serenity during times of stressful study. These are the places students come to do battle. From writing term papers to studying for finals, these locations provide the perfect environment to tackle any coursework.
Here we'll showcase some of the greatest college study spaces around the country.
Harper Reading Room at University of Chicago
The vaulted Main Reading Room in the Arley D. Cathy Learning Center of Harper Library is one of the world's most beautiful reading rooms and a UChicago favorite. Open to students 24 hours a day, it is the perfect space for quiet individual study.
Photo courtesy Chris Smith, OutofChicago.com
Photo credit: Zenobia Gonsalves via
Flickr
Suzzallo Library Graduate Reading Room at University of Washington
The Suzzallo Library is Collegiate Gothic architecture at its finest. The 250-foot long, 52-foot wide, 65-foot high Graduate Reading Room with a painted and stenciled timber-vaulted ceiling provides the perfect backdrop for silent study. Designed to provide inspiration to generations of students and faculty, one almost feels they need to hold their breath as they enter this "Cathedral of Learning."
Photo credit:
KPortin
Photo credit:
KPortin
Hoose Philosophy Library at USC
The Hoose Philosophy Library is the oldest and one of the most beautiful libraries on the USC campus. Its main reading room, equipped with a stone fireplace, stained glass windows and a high cathedral ceiling, creates a very thought-provoking study environment. The Philosphy Library, the perfect place for any thinker, is surrounded by depictions and captions from many of the greatest philosophers of the world from the ancient Far East to modern America.
Photo: University of Southern California
A. D. White Reading Room at Cornell University
Three tiers of crafted iron stacks offer a beautiful and open display of a prized collection of books in a room dedicated to Andrew Dickson White, Cornell University's co-founder and first president.
Photo: Cornell University Library Communications
Photo credit: Christian Montoya via
Flickr
Chancellor Green Rotunda at Princeton University
A two-story octagonal rotunda with symmetrical design offers a pleasant, yet not too visually distracting study space for students. The stained glass windows of the rotunda provide a natural octagonal dome light. A highly prized location, this space once served as a campus pub during the '70s.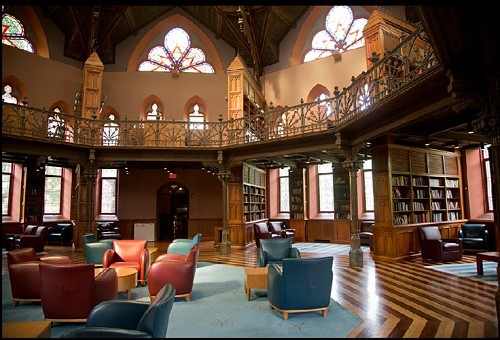 Photograph by Ricardo Barros,
VIA
Gargan Hall in Bapst Library, Boston College
Named after Boston College's first president, Father John Bapst, the Bapst Library was designed to follow Oxford University's English Gothic style. With stained glass windows throughout the building, students and visitors alike enjoy the beautiful interior of this masterpiece.
Photo © Richie Moriarty
Photo © Richie Moriarty
Photo credit: Linda Cullivan via
Flickr
26th Floor Study Lounge at Student Village II, Boston U.
The advantage of BU having many tall buildings is that multiple study spaces can be found on campus with world-class views of the Boston skyline. The highest and perhaps the most panoramic view can be found at the top floor study lounge in Student Village II, BU's luxurious dorm built in 2009. Some other study locations on campus with incredible views include the 9th floor study lounge in Shelton Hall, the Student Village I Student Atrium, and the Rome Lounge at the Law School.
Photo: Boston University
The view from the 26th floor study lounge. Photo:
Shaun Ramsay
Klarchek Information Commons, Loyola University Chicago
Seats in this mostly glass, openly designed building look out over Lake Michigan. Lots of windows bring in plenty of natural lighting, setting the tone for an excellent study space with a view in this LEED Silver rated building. With input from a roof-top weather station, an automated system opens windows and controls blinds to naturally ventilate and cool the interior.
Photo:
Ellen Bauch
,
Loyola Phoenix
Photo: Loyola University Chicago
Beinecke Rare Book and Manuscript Library at Yale
Beinecke is the largest building in the world reserved exclusively for the preservation of rare books and manuscripts. The outer walls are made of translucent marble that transmits subdued lighting and shields direct sunlight. This transparent marble also gives the building an amber glow at night. A glass-encased book tower ascends six stories above ground setting a wonderful backdrop for any student hitting the books.
The Legal Research Building Reading Room at The University of Michigan Law School
This glorious Reading Room is graced with a 50-foot vaulted cathedral ceiling, stained-glass windows, oak wall paneling, and cork floors for quiet passage.
Photo credit: Jason Ellis
Ocean View at Pepperdine University
An outdoor study location provides fresh, clean air for clear thinking over a stuffy library. You'll get plenty of it here with the ocean breeze coming off the Pacific Ocean in this amazing layout. Numerous patio seats in the Pepperdine Campus Center offer an incredible view of the Pacific Ocean.
Thompson Memorial Library at Vassar College
The west wing of the Thompson Memorial Library features beautiful architectural decoration with the remarkable Cornaro Window. Installed in 1906, the stained-glass window depicts a memorable event in the history of the higher education: the awarding of the first Doctorate to a woman.
Photo: Wikimedia Commons
Photo: Wikimedia Commons