Here is a compiled list of the 10 hardest universities to get accepted into.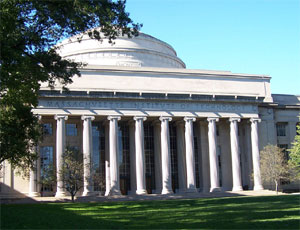 Many of these highly selective colleges are private Ivy League schools as well as others that have a long standing in U.S. History and are mostly located in Northeastern United States.
MIT
MIT is a private university located in Cambridge, Massachusetts. The admissions rate for freshmen in 2006 was 12.7% and graduate school admissions was a little less selective at 22% of 15,007 applications.


Princeton
Princeton is a private university located in Princeton, New Jersey. It is one of eight Ivy league schools and the 4th oldest university in the nation. Princeton, which always ranks as one of the top universities in the U.S., only accepted 10.2% (1792 students) of 17,563 applicants in 2006. Princeton is also known as one of the most beautiful college campuses.


Harvard
Harvard is the oldest U.S. University in operation and is considered to be one of the best colleges to attend. Located in Cambridge, Massachusetts, Harvard had an overall undergraduate acceptance rate for 2006 at 9.3%. The median score on the SAT I was 1495 out of 1600 for the class of 2009.


Brown
Brown University is a private Ivy League school located in Providence, Rhode Island. The acceptance rate for the Class of 2010 was 12.6%, making it one of the lowest in the nation. About 15 percent of the students in the admissions class graduated number one or number two in their high school classes.


Yale
Yale University is a private university in New Haven, Connecticut founded in 1701. It is an Ivy League School and the third oldest in the nation. The university has produced many US presidents and has the 2nd highest endowment of US Universities. In 2006, Yale had the lowest admissions rate ever of all Ivy League Schools at 8.6% of 21,000 applicants. With a tough admissions rate, you better know how to get in.


California Institute of Technology
CalTech is a private university located in Pasadena, California. While it only has about 2100 students, it is still considered a top 10 school. One out of every thousand alumni has received the Nobel Prize.


Stanford
Stanford is a private school located at the heart of the Silicon Valley in California. Having one of the best business schools, many Tech startups have emerged from the classes of Stanford University. It has one of the largest campuses in the nation. In 2006, Stanford admitted 10.8% of 22,223 applicants, which was the lowest in Stanford history.


Washington University – St. Louis
Washington University in St. Louis is a private university located in St. Louis, Missouri. The business school, The Olin School of Business, is one of the top business colleges in the nation.


Penn
The University of Pennsylvania is a private university located in Philadelphia, Pennsylvania. Penn, an Ivy League school, was founded by Ben Franklin. In its most recent admissions class, Penn admitted 17.7% of 20,479 applicants. Penn is also known to have one of the best law school programs.


Columbia
Columbia University is a private university located in Manhattan. First established by the Church of England, it is one of eight Ivy League Schools.
Looking for something a bit easier?
Consider these colleges that are easy to get into:
Weber State University
Evergreen State College
University of Texas - El Paso
University of Wyoming
Utah State University
If you are considering an online degree, be sure to check out these online schools that have a high acceptance rate:
American InterContinental University
Capella University
Kaplan University