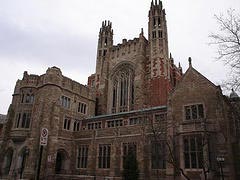 If you are looking at going to college for a degree in law, you may want to check out some of the top law schools in the nation.
Yale - U.S. News and World Report has always placed the Yale Law School on top of its rankings, ever since the magazine started rating the top law schools. The Yale Law School only admits a small amount of applicants; about 200 new law students a year. The small class size makes Yale one of the hardest schools to get into.


Harvard - You need an impressive resume to get into school at this Ivy League college. In addition to producing more Supreme Court Justices that any other law school, Harvard Law also holds the largest academic law library in the world.


Stanford - Stanford is one of the best colleges you can attend because of its very low student-to-faculty ratio and the diversity of its law school program. The average undergraduate at Stanford Law has a GPA of 3.9 and a median LSAT of 169.


Columbia - Columbia is an Ivy League School located in New York City. The Columbia Law School has the second largest law library to Harvard and is also home to the Columbia Law Review, one of the top law journals in the nation.


New York University - NYU Law is the oldest law school in New York, established in 1835. It has a very strong Tax Law program, one of the best in the country.


University of Chicago - The University of Chicago was the first law to school offer a Juris Doctor (J.D.) degree. Graduates of Chicago Law have historically been very successful.


University of California–Berkeley - The Berkeley School of Law, or Boalt Hall, has one of the lowest acceptance rates of all the top law schools. What makes it different from other law school admissions is its focus on GPA rather than LSAT scores.


University of Pennsylvania - Home to the oldest law review, the University of Pennsylvania Law Review, the law school at the University of Pennsylvania can trace its roots back to 1790, during the George Washington era.


University of Virginia - Founded in 1819 by Thomas Jefferson, the University of Virginia School of Law has an acceptance rate of about 20%, one of the highest of the 10 best law schools. The Law School receives no public funding, and relies mostly on alumni gifts.


University of Michigan - At the University of Michigan Law School the average accepted law applicant has a median LSAT score of 168 and a GPA of 3.67. Graduates of Michigan law go on to successful careers, as 98% of the graduating class of 2006 was employed by graduation day, earning a starting salary of about $125,000.
Others top law programs that almost made the list: