To see a more up to date list, see the Most Expensive Colleges for 2008-2009, 2009-2010, and 2010-2011.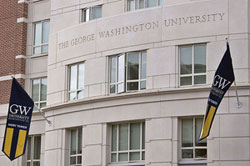 Tuition rates have been rising an average of 6% a year. This rate has been out pacing inflation at a much faster rate for decades.
Higher tuition puts more pressure on parents trying to finance their son or daughter's education, as well as with students, who are forced to pull out larger student loans. While student loans are considered "good debt" because of its investment, the price of college is still too high for most students.
Most people want to receive a high quality education and many will pay what ever it takes to get the best. However, Just because a college is the most expensive, doesn't necessarily make it one of the best colleges. In fact, some argue that some of the schools on this list of expensive colleges are just using their high cost as a marketing ploy, thinking there are people out there who want the best and believe they have to pay up to get it.
Some of these tuition fees are pretty outstanding, considering the median tuition at a four-year school is about $7,490.
The most expensive colleges are just about all in the northeast corner of the United States, being Ivy League type schools or fine liberal art schools in the New York area that boast low student-teacher ratios. Of course, most of these expensive colleges are private, as tuition is usually twice as much at a private school.
These rankings are based on 2007-2008 tuition rates.
Remember though, not all students are paying this much, as many of these schools have excellent financial aid programs.
Highest Tuition:
College

1. George Washington
2. Bucknell
3. University of Richmond
4. Colgate
5. Sarah Lawrence College
6. Tulane
7. Wesleyan University
8. Hamilton College
9. Bowdoin College
10. Carnegie Mellon
11. Penn
12. Johns Hopkins
13. Bennington College
14. Tufts University
15. Brown
16. Vassar College
17. NYU
18. USC
19. Notre Dame
20. Dartmouth


Tuition 2007-2008

$39,210
$37,934
$37,610
$37,405
$37,230
$36,610
$36,536
$36,500
$36,370
$35,984
$35,916
$35,900
$35,850
$35,842
$35,584
$35,570
$35,283
$35,212
$35,190
$35,178


Of course this list does not take into context room and board. Where your college is located can be a huge price difference. Bigger, more populous cities demand higher rent and expenses.
So, taking that into context, here are the most expensive colleges based on Tuition and Room and Board combined for one school year.
Highest Total Cost:
College

1. George Washington
2. Johns Hopkins University
3. Brown
4. NYU
5. Wesleyan University
6. Colgate
7. University of Chicago
8. Tulane
9. Bowdoin College
10. Boston College
11. Penn
12. USC
13. Tufts University
14. Bucknell
15. Boston University
16. Hamilton College
17. Northwestern University
18. Washington U.-St Louis
19. Sarah Lawrence College
20. Cornell


Tuition, Room and Board

$51,110
$47,626
$47,476
$47,063
$46,666
$46,575
$46,308
$46,300
$46,260
$46,210
$46,124
$46,070
$46,002
$45,986
$45,880
$45,850
$45,840
$45,752
$45,730
$45,690



Editor's note:

Data based on tuition data published on specific College websites as of September 10, 2007.

This list covers traditional 4-year Colleges, therefore may not include some schools, such as Bard College at Simon's Rock since it is geared toward students who have completed the 10th or 11th grade, but have not received a high school diploma. A majority of students at Simon's Rock transfer to larger institutions after receiving an associate's degree after two years.

Other non-traditional schools include Landmark College which provides a liberal arts education to kids with learning disabilities and attention-deficit/hyperactivity disorder. Tuition at Landmark College is now listed at over $40,000.