Amazon Kindle Textbook Rentals
Today, Amazon.com announced the launch of Kindle Textbook Rentals, a new service that claims to save students up to 80% off the list price of a print textbook. The eTextbooks can be downloaded immediately after purchase and renters can choose their rental period (any length between 30 and 360 days), so you only need to pay for the time you actually need the book, rather than set intervals. Tens of thousands of titles will be available for the upcoming school year in the Fall. Check them out at Amazon.com/kindletextbooks.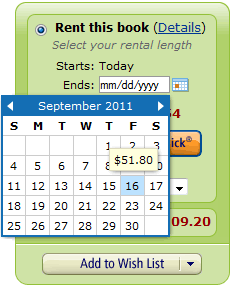 Prices Compared to Other Textbook Renters
At first glance, prices for textbook rentals on Amazon do seem affordable. When compared to other book renters, Amazon sits close to the top third when ranked by lowest cost, according to a recent study we did to find the cheapest textbook retailers. (The cheapest place we found to get textbook rentals was at CampusBookRentals.com, who rent out textbooks in their traditional form, rather than digital.)
We also found eTextbook rentals on Amazon to be much cheaper than (eTextbook) market leader CourseSmart.com, though CourseSmart does have more titles available in the digital format.
Other features of the Amazon Kindle Textbook Rental Program:
Easily extend any rental period in increments as small as one day.


Students can choose to purchase the book they are renting at any time.


When rental period ends, you still get to keep any annotations and highlighted content made in the book. These notes are made available in the Amazon Cloud and are available anytime, anywhere.


Kindle textbook rentals can also be read on other devices with free Kindle Reading Apps for PC, Mac, iPad, iPod touch, iPhone, BlackBerry, Windows Phone and Android-based devices.