As more and more students are turning to community colleges to fulfill their higher education goals, students are seeing that learning in a smaller campus atmosphere they can get prompt feedback and better access to instructors.
Students are enrolling in community colleges for a number of reasons: the lower cost, the close location to home, and those recently unemployed are looking to gain new skills for the job market.
Nearly half of all American students begin their college careers at two-year institutions. There are about 1,200 community colleges nationwide educating approximately 12 million students.
Affordable Education
Going to a community college is obviously a cheaper option. Average tuition and fees for 2-year schools in 2009-2010 was $2,544, while the average cost at a 4-year public school was $7,020.
Full-time students at public two-year colleges receive an average of $3,000 in grant aid. This aid covers average tuition and fees and provides about $500 toward living expenses. (Source: College Board 2009 Trends in College Pricing)
Top 25 Community Colleges
The ranking (compiled by Washington Monthly) is based on multiple categories, including: learning environment, academic challenge, graduation rate, and student-faculty interaction.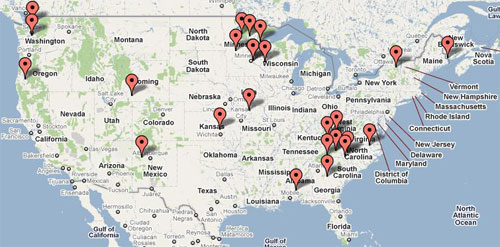 Apparently all the good community colleges are in Minnesota and North Carolina.
Saint Paul College (MN)
Hesston College (KS)
Carolinas College of Health Sciences (NC)
Mayland Community College (NC)
Itasca Community College (MN)
Wisconsin Indianhead Technical College
Leech Lake Tribal College (MN)
Alexandria Technical College (MN)
Southwestern Community College (NC)
Chippewa Valley Technical College (WI)
Washington County Community College District (ME)
Georgia Military College
Umpqua Community College (OR)
Southern West Virginia Community and Technical College
Western Wyoming Community College
New Mexico State University - Grants
Tacoma Community College (WA)
Hazard Community and Technical College (KY)
Skagit Valley College (WA)
Alabama Southern Community College
Rowan-Cabarrus Community College (NC)
North Country Community College (NY)
North Central Missouri College
Hawaii Community College
Halifax Community College (NC)