Total Cost = Tuition + Room and Board + Required Fees
| | |
| --- | --- |
| College | Total Cost |
| 1. Sarah Lawrence College | $59,170 |
| 2. New York University | $56,787 |
| 3. Columbia University | $56,310 |
| 4. Harvey Mudd College | $55,998 |
| 5. Eugene Lang College (The New School) | $55,890 |
| 6. Claremont McKenna College | $55,865 |
| 7. Wesleyan University | $55,706 |
| 8. Bard College | $55,617 |
| 9. Barnard College | $55,566 |
| 10. Trinity College (CT) | $55,450 |
| 11. University of Chicago | $55,416 |
| 12. University of Southern California | $55,384 |
| 13. Dartmouth College | $55,365 |
| 14. Drexel University | $55,335 |
| 15. Bates College | $55,300 |
| 16. Johns Hopkins University | $55,242 |
| 17. Vassar College | $55,135 |
| 18. Bard College at Simon's Rock | $55,110 |
| 19. Haverford College | $55,050 |
| 20. Pitzer College | $54,988 |
| 21. Fordham University - Lincoln Center | $54,972 |
| 22. Connecticut College | $54,970 |
| 23. Bennington College | $54,960 |
| 24. Occidental College | $54,950 |
| 25. Carnegie Mellon University | $54,922 |
| 26. Bowdoin College | $54,900 |
| 26. Scripps College | $54,900 |
| 28. Fordham University - Rose Hill | $54,893 |
| 29. Vanderbilt University | $54,892 |
| 30. Northwestern University | $54,763 |
| 31. Oberlin College | $54,760 |
| 32. Cornell University | $54,695 |
| 33. Stevens Institute of Technology | $54,682 |
| 34. Rensselaer Polytechnic Institute | $54,679 |
| 35. Washington University in St. Louis | $54,666 |
| 36. Williams College | $54,560 |
| 37. Boston College | $54,528 |
| 38. Tufts University | $54,474 |
| 39. The George Washington University | $54,473 |
| 40. Georgetown University | $54,443 |
| 41. Tulane University | $54,284 |
| 42. Union College (NY) | $54,273 |
| 43. Bucknell University | $54,240 |
| 44. Carleton College | $54,180 |
| 45. Boston University | $54,130 |
| 46. Amherst College | $54,098 |
| 47. Hobart and William Smith College | $54,072 |
| 48. Franklin & Marshall College | $54,060 |
| 49. St. John's College | $53,990 |
| 50. Penn | $53,976 |
| 51. University of Rochester | $53,922 |
| 52. Brandeis University | $53,916 |
| 53. Dickinson College | $53,860 |
| 54. Reed College | $53,850 |
| 55. Colby College | $53,800 |
| 56. Duke University | $53,760 |
| 57. St. Lawrence University | $53,740 |
| 58. Babson College | $53,730 |
| 59. Bryn Mawr College | $53,714 |
| 60. Skidmore College | $53,684 |
| 61. Mount Holyoke College | $53,596 |
| 62. Colgate University | $53,570 |
| 63. Hamilton College | $53,470 |
| 64. Smith College | $53,460 |
| 65. Franklin W. Olin College of Engineering | $53,450 |
| 66. Middlebury College | $53,420 |
| 67. Wellesley College | $53,250 |
| 67. Swarthmore College | $53,250 |
| 69. Brown University | $53,136 |
| 70. Providence College | $53,115 |
| 71. Pomona College | $53,110 |
| 72. Hampshire College | $53,080 |
| 73. Lafayette College | $53,020 |
| 74. Wake Forest University | $52,986 |
| 75. Stanford University | $52,860 |
| 76. University of Notre Dame | $52,805 |
| 77. Emory University | $52,792 |
| 78. Gettysburg College | $52,790 |
| 78. Fairfield University | $52,790 |
| 80. College of the Holy Cross | $52,758 |
| 81. Yale University | $52,700 |
| 82. Harvard College | $52,652 |
| 83. Kenyon College | $52,650 |
| 84. Southern Methodist University | $52,646 |
| 85. Washington and Lee University | $52,614 |
| 86. Pepperdine University | $52,596 |
| 87. Wheaton College (MA) | $52,564 |
| 88. Chapman University | $52,521 |
| 89. MIT | $52,507 |
| 90. University of Richmond | $52,420 |
| 91. Loyola University Maryland | $52,320 |
| 92. Drew University | $52,160 |
| 93. Villanova University | $52,070 |
| 94. Worcester Polytechnic Institute | $51,964 |
| 95. Ursinus College | $51,950 |
| 96. Lehigh University | $51,800 |
| 97. American University | $51,719 |
| 98. Macalester College | $51,417 |
| 99. Dominican University of California | $51,250 |
| 100. University of Miami | $51,182 |
Back to the original article: Most Expensive Colleges for 2011-2012
Notes:
Total Cost = Tuition + Room and Board + Required Fees
The fees included in the total cost only include fees that are required for all undergraduates. These fees typically include items like the Student Activity Fee, a Facilities Fee, and a Technology fee. You won't see any fees by major, orientation fees for incoming students, or medical insurance fees included in these costs. Many other fees can be optional and can vary per student and per major. A Student Health Insurance Fee, for example, is obviously not going to be required for a student already on their parents' insurance plan. Some colleges have their yearly budget for students listed slightly higher than what you see here. This is because some colleges also add in estimated costs of books, personal expenses, and transportation costs.
Tuition numbers were taken directly from each college's website during the last week of September of 2011.
This list only takes into account colleges that offer bachelor's (BA) degrees, so you will not see schools like Landmark College (costs over $55K) who only offer students an Associate of Arts (AA) degree.
Princeton Review has released its party school rankings for 2012 and it has Ohio University celebrating the fact that they are finally #1. Even though it is still 2011, Princeton Review likes to release the rankings in August to generate hype for its 2012 college guide book: The Best 376 Colleges.
The annual Princeton Review ratings are based on a survey of 122,000 students at 376 colleges. The ranking for Party Schools and Stone-Cold Sober Schools are based on students' answers to questions concerning alcohol and drug use at the school, study time, and the popularity of the Greek system.
The top two party schools swapped spots this year from the last ranking with Ohio taking the title from Georgia (Fun Fact: both schools are located in a city called Athens). It's no wonder Ohio is #1 after ranking tops in the "Lots of Beer" category and #2 in "Lots of Hard Liquor" as well.
Of course more and more are starting to question the methodology of the Princeton Review rankings and the rankings in general seem to be losing steam year after year.
Princeton Review's Top Party Schools for 2012
Schools on the "Party Schools" ranking are those at which student answers indicated low study time, high use of alcohol and drugs, and a highly popular Greek system.
Ohio University
University of Georgia
University of Mississippi
University of Iowa
University of California Santa Barbara
West Virginia University
Penn State University
Florida State University
University of Florida
University of Texas
University of Illinois
Syracuse University
Louisiana State University
University of Wisconsin-Madison
DePauw University
Indiana University
Arizona State University
University of Maryland
University of Vermont
University of South Carolina
Stone-Cold Sober Schools (Worst Party Schools)
Schools on the "Stone-Cold Sober Schools" ranking are those at which student answers indicated a combination of lots of study time outside of class, low use of alcohol and drugs, and a low interest in fraternities and sororities.
Brigham Young University
Wheaton College (Ill)
Wesleyan College
U.S. Coast Guard Academy
U.S. Military Academy
U.S. Naval Academy
Calvin College
Grove City College
Pepperdine University
City University of New York
The Cooper Union for the Advancement of Science and Art
U.S. Merchant Marine Academy
U.S. Air Force Academy
Franklin W. Olin College of Engineering
City University of New York -- Queens College
Thomas Aquinas College
University of Dallas
Agnes Scott College
College of the Ozarks
Gustavus Adolphus College
Other categories in the Princeton Review rankings that relate to "partying" include:
Ohio University
University of New Hampshire
Claremont McKenna College
Penn State
West Virginia University
University of Florida
Providence
Florida State
Georgia
Texas
Providence
Ohio University
Trinity College (CT)
Tulane
St. Bonaventure University
Georgia
Indiana
Iowa
Wisconsin
Mississippi
Reefer Madness (Most Potheads)
Colorado College
University of California - Santa Cruz
University of California - Santa Barbara
University of Colorado
Bard College
Lewis and Clark College
Warren Wilson College
Eckerd College
New College of Florida
University of Vermont
Students Study the Least
University of North Dakota
Salisbury University
University of Alabama
University of Central Florida
University of South Florida
University of Mississippi
Iowa
LSU
Florida State
Maryland
Choosing a career is a tough process. It's a lifelong decision and can be stressful thinking whether or not you are making the right choice. Not that your career choice is set in stone, just switching careers (majors) part way through college can become costly.
We've always suggested before selecting your major, consider taking a few related classes or even doing an early internship to make sure it's actually something you want to do. It's been one of our top pieces of advice for college students (See: #64 in College Advice: 100+ Tips for Survival).
Here's one student, Michael Warshafsky of Queen's University, who is taking a similar approach. In an effort to decide on a career path, he is job shadowing 60 people in 60 days and in the process, blogging about his experience. Check out his website at sixtyinsixty.com/theproject.
What is Job Shadowing?
Job shadowing is a career exploration process that enables an individual to experience a profession in person by following (shadowing) a professional and observing a typical day of work in the field. Job shadowing is a great way to get to know the ins and outs of a profession and requires very little time commitment or effort on your part (compared to what you will get out of it).
Even those who already have an idea of what they would like to do should still job shadow to see if you actually like the work and want to make a career out of it.
Job Shadowing: 60 Jobs in 60 Days
Michael, who is currently about halfway through his 60 jobs in 60 days project, reports that the project is going very well with some of his favorite job shadows so far being city councilor, judge, journalist, publisher, dentist, and pediatrician.
So far the experience has helped him narrow down what he's interested in: he really enjoyed job shadowing for both an optometrist and a dentist. "I could definitely see myself doing either of those careers and I probably wouldn't have known that without doing 60 jobs in 60 days."
The project has been a learning experience. Not only has it given him a deep understanding of what many professionals do every day, he has earned himself some great business contacts. Talking and meeting with new professionals has also enhanced his interview skills as he gets comfortable with the practice he gets during the project.
Another valuable tip he learned: people will want to help you if you take the time to reach out in an honest way. Meaning if you know someone in a career field you are considering (or, even if you don't know them), feel free to reach out, ask questions, and get advice. It's always great to have some type of mentor who can help lead you down the right path.
While he regrets not starting the project earlier (It would have been nice to put the innovative project on college and scholarship applications), it will surely be a rewarding experience in the end. Once he completes his objective he should have a good idea of what he wants to go into and what he doesn't.
Benefits of Job Shadowing
Career Direction. Will help with the career exploration process. Is this something I want to be doing the rest of my life?


Networking. You'll gain contacts in the industry who can answer questions and point you in the right direction providing advice on the chosen career path.


Valuable experience. Job shadowing will help you be more outgoing, improve your interview skills, and get you comfortable to these types of settings.
Being able to download textbooks from the Internet saves you from the time and hassle it takes getting textbooks at the college bookstore. This form of textbook not only costs less, but is much easier to carry around. Now you can experience the ease and convenience of studying with eTextbooks for free.
CourseSmart is offering a free trial to those who wish to try out eTextbooks. CourseSmart is the largest provider of eTextbooks with a great selection that includes over 90% of the core textbooks in use today.
Simply head on over to CourseSmart and search for your textbook by Title or ISBN. Once you have selected your book, click on the 'Start Free Trial' button.
You'll have free access to the online version of the eTextbook for 14 days or 50 page views, whichever comes first (An Internet connection is required anytime one wishes to view the online version of the eTextbook). When the free trial ends, you can purchase a subscription to the eTextbook if you wish to continue using it.
This free trial provides a great opportunity for students who have yet to use eTextbooks by giving them a chance to test the usability of digital textbooks. Some students will appreciate the convenience of using eTextbooks, while other students may find they still prefer traditional print textbooks when studying.
Other Details
To receive the free trial you will have to create a CourseSmart account. Registration requires a valid credit card to verify that you qualify for the free trial offer. A temporary $1 fee will be authorized to your credit card but no permanent charge from CourseSmart will appear on your bill for your participation in the Free Trial offer.
Today, Amazon.com announced the launch of Kindle Textbook Rentals, a new service that claims to save students up to 80% off the list price of a print textbook. The eTextbooks can be downloaded immediately after purchase and renters can choose their rental period (any length between 30 and 360 days), so you only need to pay for the time you actually need the book, rather than set intervals. Tens of thousands of titles will be available for the upcoming school year in the Fall. Check them out at Amazon.com/kindletextbooks.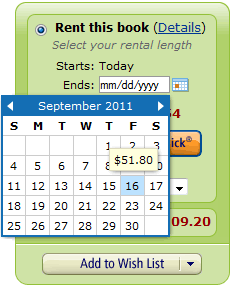 Prices Compared to Other Textbook Renters
At first glance, prices for textbook rentals on Amazon do seem affordable. When compared to other book renters, Amazon sits close to the top third when ranked by lowest cost, according to a recent study we did to find the cheapest textbook retailers. (The cheapest place we found to get textbook rentals was at CampusBookRentals.com, who rent out textbooks in their traditional form, rather than digital.)
We also found eTextbook rentals on Amazon to be much cheaper than (eTextbook) market leader CourseSmart.com, though CourseSmart does have more titles available in the digital format.
Other features of the Amazon Kindle Textbook Rental Program:
Easily extend any rental period in increments as small as one day.


Students can choose to purchase the book they are renting at any time.


When rental period ends, you still get to keep any annotations and highlighted content made in the book. These notes are made available in the Amazon Cloud and are available anytime, anywhere.


Kindle textbook rentals can also be read on other devices with free Kindle Reading Apps for PC, Mac, iPad, iPod touch, iPhone, BlackBerry, Windows Phone and Android-based devices.
What would you do with a laptop that had all-day battery life? Where would you go? What study environment would you choose? Where would you take your work?
While most would probably say the beach, we didn't think sand and water would be a good fit for our new toy (don't get us wrong, we love the beach). So, we took our day out to what we considered the next best thing…an amazing view of the ocean from up top.
We'd soak up the sun in this study spot (soon to be mentioned in an upcoming CampusGrotto ranking of the most beautiful study locations) at Pepperdine University with a beautiful view of the Pacific Ocean.

Imagine being able to study here all day without the worry of being plugged in. Image: CampusGrotto

The new Sony S Series claims to provide up to 15 hours of battery life, which would be a godsend to any student. Preliminary tests by firsthand users are already showing impressive results on performance and have users raving about the long-lasting battery.

While you probably shouldn't be on a laptop for 15 straight hours, it's good to know that this type of battery life is possible without having to carry around plugin adapters that take up space and add weight to our bags. It's peace of mind knowing one doesn't have to worry about battery life or their battery dying on them.

Our first full day using the laptop we were able to get just over 14 hours of battery life on the Sony VAIO with the sheet battery attached (see pic below). This was accomplished by using the 'Power Saver' power plan, setting the switchable graphics from Speed to Stamina mode, and setting the screen brightness to a low, but tolerable setting.
What would you do with all-day mobility?
Share your story and Enter to Win.
Do want to experience the luxury of all-day mobility? Here's your chance. Share or tell your story of what you would do with a laptop (equipped with a battery) that lasted all day. Head over to the Windows Experience Blog, who is teaming up with Sony, to giveaway a brand new Sony S Series laptop.
Enter to win a Sony VAIO S series PC and a sheet battery.
To enter contest post a comment on this blog post about what you would do with your laptop if you were unplugged from the wall all day. You can also enter by sending the answer via Twitter to @windows using the #15hoursbatt hashtag. Winner will be chosen at random from all qualifying entries. Contest runs until July 17th at 7:00 PM PT.
For those who don't win, you can still get half off a sheet battery via Sony's special offer: sony.com/batteryoffer. Students can get the sheet battery for free with the purchase of a VAIO S.
Imagine going five months without having to pay for food. Sounds like a dream come true for most on a typical student budget. Greg Woloschyn, a computer science major from Carnegie Mellon University, made it happen and now he's sharing his tricks with a program he wrote for his new website, Food-Bot.
The Food-bot website currently lists free food events at 12 universities and is slowly expanding to other schools. (You can put in a request to get your school added here.)
Each school with a page on Food-bot has a main page that lists upcoming free food events in calendar format. There are one of two ways free food events get placed on the site: student groups can post event information manually or the Food-bot program searches upcoming events at the school, extracts free food event information, and posts it on the website.
How it Started
When Greg was first searching for free food events he created a Gmail account and subscribed to several thousand mailing lists on campus. Using email filters, he was able to delete every email that didn't contain a food-related word. The inbox was then left with emails that potentially contained events providing free food. This idea became the basis for the making of Food-bot.
Being a computer science major he knew there had to be an easier way. By applying complicated formulas he created a program that scans through all incoming emails, determines the probability of the document belonging to a particular category (free food or non-free food), and places each event classified as free food into a database that is displayed on the Food-bot website.
The program assigns ratings to each event listing on the level of food quality (steak, Jimmy John's, and Chipotle get a 10), time commitment, and awkwardness for those who may attend. (If the event is an ethnic or religious meet up, it could be more awkward to come just for the food.)
While he realizes Food-bot isn't completely perfect at finding free food on campus, it has helped students at 12 colleges find free food.
Food-bot currently lists free food events for the following colleges:
Stanford
Carnegie Mellon
UC Berkeley
Duke
Illinois
MIT
Pittsburgh
Wooster
Case Western
Johns Hopkins
Maryland
Purdue
The free food site has been getting some recognition. It won Carnegie Mellon's Smiley Award back in March, which recognizes the best student development in technology that helps communication among people.
<< Start
< Prev
1
2
3
4
5
6
7
8
9
10
Next >
End >>
Results 50 - 56 of 428
Related Articles
Get College Tips by Email:
Upcoming Articles:
Most Expensive College Dorms
To get these,
subscribe by email
.
Reader Testimonials
"I like the articles that are written here. There are plenty of other blogs that cover being frugal as a student, but you cover stuff that other places don't." -
Sarah E., USC
"I like the fact that you're actually offering interesting, useful information to students." - Pedro M., Harvard
In the News:

Learning Online
Access select online courses:
College Guides
| | |
| --- | --- |
| College Admissions | Paying for College |
| Degree Guide | Textbooks |
| College Life | Study Tips |