"You get what you give."
This saying, known in some circles as words to live by for finding true purpose in life, will soon have meaning to the college admissions process.
There is growing concern that the current state of college admissions is flawed.
Many college officials are taking notice to a path to college acceptance that relies too heavily on personal accomplishments (grades and test scores). This promotes a selfish, me-first, everyone-against-each-other mentality rather than a care for the common good of others and greater good of society.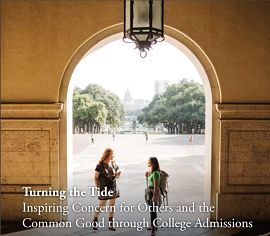 A recent report by the Harvard Graduate School of Education reveals a plan to be implemented over the next two years to improve the weight of community service and involvement in the admissions decision.
When the Dean of Admissions at all Ivy League schools get together and agree on something, you better listen.
The college admissions process is a major roadmap for how students choose to shape their high school experience. The future of college admissions will look at what students are doing to make the world a better place.
If you are a current high school student, there are a few things you can start doing that can help you get accepted to the college of your dreams.