As a college student, you will be required to do a lot of writing, no matter what your major is. Writing can be a daunting task for students who feel that their skills are not up to par or feel overwhelmed by the thought of anything more than a five page paper. If you follow some basic steps you can craft a quality essay no matter what the topic.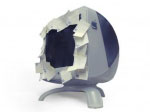 Essay Structure
There are many different types of essays that you may be asked to write. Some common types are expository essays, research essays, argumentative essays, and persuasive essays. However, all essays follow the same basic structure: introduction, body, and conclusion.
Introduction: This should include your thesis statement, also known as the main idea. You should make this statement interesting enough to keep your reader's attention and make them want to read the rest of the essay.
Body: The body of your essay should consist of the points that support your thesis statement. This is the "beef" of your essay.
Conclusion: This is the part of your essay where you will quickly summarize your main idea and briefly retouch on the ideas in the body of the essay. You do not want to leave your reader hanging, therefore, make sure you that you conclude your essay in a way that finalizes your thoughts.
Essay Writing Process
Instead of sitting down and trying to write your essay from start to finish all at once, you may want to follow a specific writing process that will help you organize your thoughts and ideas.
Brainstorm: Jot down your ideas for your thesis. If you have not been assigned a topic, then this is the time to think of one.


Research: Go online or to the library and start to do some research. This will help you gather your sources and help expand your ideas.


Outline: Now that you have your topic, thesis and ideas, you can outline the structure and order of your essay.


Draft: Use your outline to produce a rough draft of your essay.


Proofread: Go through your essay and check for spelling errors and grammatical inconsistencies. Hand your paper over to a peer or family member and have them do the same.


Revise: Use your rough draft as a reference to clean up your essay.


Final: Read your essay over one last time and make sure it is up to your standards.
Essay Tips
Make sure that you addressed the requirements of your professor, such as word or page count, margins, font and/or double spacing. You can have a perfect essay, but not following basic formatting instructions can negatively impact your grade.
If you have a question or need help, do not hesitate to ask your professor or a student peer. Asking questions about things you are unsure of will ensure that you understand the given assignment.
Finally, do not stress or get overwhelmed. Sit down, relax and take your time with your assignment. Do not wait until the last minute or rush through the writing.